Baker Mayfield Does the Impossible, Wins Two Days After Trade

The NFL had never seen anything quite like this before. Less than 48 hours after being traded to a new team, Baker Mayfield was suddenly able to turn over 50 minutes of incompetence into 10 minutes of brilliance, leading the Rams to a last-second comeback win over the woeful Las Vegas Raiders.


---
Notice how the picture in the article shows just one Raider in the frame: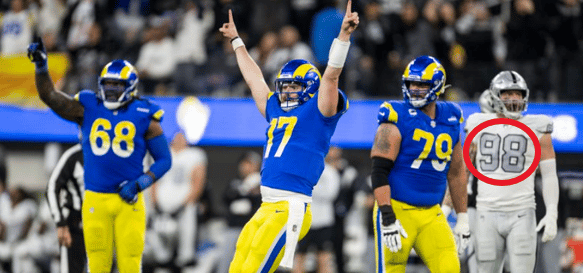 That's Raiders star lineman Maxx Crosby, who sacked Mayfield once.

Baker Mayfield was born on the 14th of April, or 14/4:

Maxx Crosby wears #98.

The LA Rams scored their final touchdown after a miraculous 98-yard drive:


The game fell just three nights after Tom Brady led a very similar comeback, winning by the exact same score with two touchdowns in the 4th quarter.

---
Gay Marriage

The Rams are the first team to ever draft an openly-gay player, whose name is Michael Sam, who turns 33 years old next month.

The man who kicked the game-winning 33-yard extra point was Matt Gay: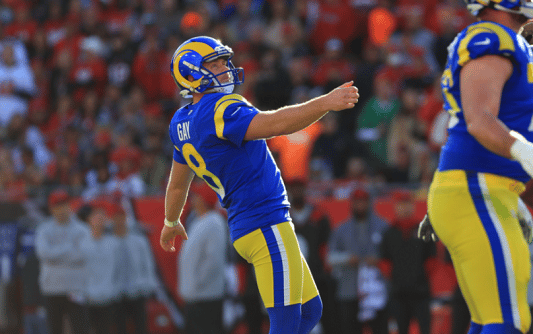 Gay's kick put the 33rd and final point on the board.
The 33rd Pentagonal number is 1617
The game ended with a score of 16-17

The last NFL game played before this one also finished with a final score of 16-17, and it was also a miraculous comeback:
Earlier that same day, Congress passed the "Gay Marriage Protection Act" as the media has dubbed it:

This was also the same date that Brittney Griner, who is married to another woman, was returned home from a Russian prison. Let's not lose sight of how similar the name Griner is to the word Grindr, which is the name of a gay dating app.
---
As I have explained before, any time there's big Baker Mayfield news, there's a riddle connected to Ronald Reagan. Baker's middle name is Reagan:

Reagan's middle name was Wilson, which is the name on a regulation NFL football:

The commentators kept pointing out how Mayfield hadn't even been with the team for 48 hours.


Notice how National Football League has remarkable overlap with Ronald Wilson Reagan.

---
More Alignments
Last December, I made this post where I discussed how the tornado that destroyed a candle factory in Mayfield, Kentucky was connected to Baker Mayfield. That tornado happened the night of December 10th into December 11th. The rest of this weekend's NFL games will be played on December 11th.
There's also a deeper riddle connecting Rams coach Sean McVay and Baker Mayfield. Sean McVay was still 1923 weeks old for the game, and Mayfield was born 1923 days after Michael Sam. The year 1923 is when the Brown Lunation counts began – Mayfield started his career playing for the Browns.
Sean McVay was 33 years old when he made it to his first Super Bowl, the big "Gay" number shown up above. Thursday's game was 1404 days later, which reflects Mayfield's birthday of 14/4.