Chiefs Win Super Bowl 38-35
This year's Super Bowl finished with a score of 38-35:

What makes this so interesting? Back in December, I made this Blog post about a riddle that connected games with a score of 38-35 to this season.
Does this mean I correctly predicted the score of the Super Bowl? Not exactly, but what are the odds that I devoted a post specifically to games that ended with this score?
There have been about 18,000 games played in the history of the NFL, and only 25 of them (or 1 in 700) have finished with this final. Granted, the NFL was a much lower-scoring league when it started, and there were only three with this final up unti 1980. Counting from then, it's still only about 1 in 500 games.
---
The linked post focuses on the Green Bay Packers, as almost everything I was writing about did at the time. While their numbers would have made all the sense in the world, it wound up being the Philadelphia Eagles, who happens to be the only other team with 150 gematria in the NFL. The first Super Bowl the Eagles played in was Super Bowl 15.

The two teams also share a 93, which was a key number of focus as it also connects to Vince Lombardi, Brett Favre, and Aaron Rodgers, whose Celebrity Jeopardy! victory fell exactly 93 months before the Super Bowl.

The Super Bowl finished with a total of 73 points.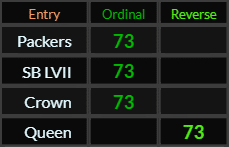 ---
Skull and Bones
Chiefs' kicker Harrison Butker entered the game 20/23 in postseason field goal attempts. This of course meant he would doink his first kick off the upright.
The 2023 Super Bowl between the Kansas City Chiefs and Philadelphia Eagles took place on the date leaving 322 days in the year:


These are the two numbers associated with the Skull and Bones secret society, which is headquartered at Yale University.



---
Skull and Bones has matching gematria with Revelation.


Revelation sums to 121 in Ordinal and 1010 in Latin.

Mahomes was born on a date with Standard numerology of 121:

Revelation reveals the number of the Beast to be 666.

On the calendar, 666 days is usually equivalent to 21 months, 27 days.

Mahomes was 21 for 27 passing
The Chiefs took their first lead after falling behind 21-27 on a 33-yard field goal.
---
Birth Ritual
Also in December, I made this Blog post about how Super Bowl 57 was going to be connected to the Immaculate Conception of Mary, mother of Jesus Christ, and the Birth of the savior. Towards the end of the season, Franco Harris, who caught the "Immaculate Reception", died suddenly just three days before his number was retired.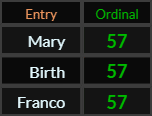 This riddle was solidified in the most concrete way possible, as Rihanna showed up on stage with a big baby bump, confirming her second pregnancy after the show.

On top of that, she spent most of her performance singing to gyrating men who were dressed as sperm.

When the Rihanna show began, the score was 24-14, meaning there were 38 points on the board.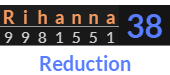 During the show, she made it very clear which Super Bowl commercial was her favorite, by placing her hands in the shape of a Dorito chip.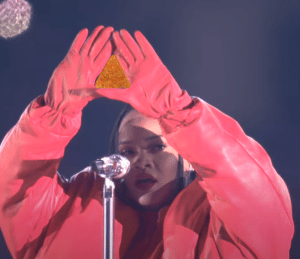 Just kidding. Illuminati confirmed.

---
ASAP Rocky
The father of Rihanna's children is her husband ASAP Rocky, whose real name is Rakim Mayers.


His stage name has gematria of 53.

53 is another important number to this. See my decode of Super Bowl 53, where this number got several tributes. An NFL field is 53 yards wide, and each team gets 53 roster spots for every game.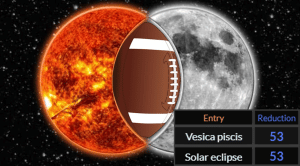 She assumed office on the 20th of September, or 20/9.