The number 53 is significant to the sport of football, where the ball used is the shape of a vesica piscis.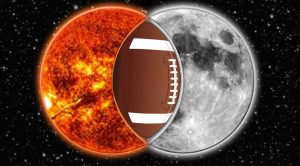 An American football field is 53 yards wide
Each team has a 53-man roster
The Patriots beat Los Angeles with their 37th playoff win in Super Bowl 53.

#53 of the Patriots is Kyle Van Noy. He made a huge third-down sack in the 2nd quarter.

On that play, the Rams snapped the ball from the New England 47, or 53 yards away from their own end zone.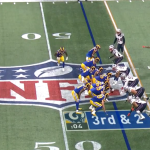 The ball was snapped with 4:57 left in the 2nd quarter. That's 25:03 into the game. The Patriots finished the game with 253 team passing yards.

The Rams only scored 3 points. They came on a 53-yard field goal.
This game was the first in Super Bowl history to only have one touchdown. It came exactly 53:00 into the game. Sony Michel, who scored the touchdown, had 53 yards after the run.

The clock read 7:03 when the touchdown play began.

The Super Bowl finished with a score of 13-3. Michel was born on a date with Full numerology of 133



131 is the 32nd Prime number
Jared Goff was 112 days after his birthday. When the Patriots kicked their game-sealing field goal, there was 1:12 left on the clock. The snap occurred with 1:16 on the clock.

---
53 is the 16th Prime number
16 teams each in the NFC and AFC
The game finished with a total of 16 points
Brady had 160 passing yards in the 1st half

The quarterback of the Los Angeles Rams is #16 Jared Goff. He was sacked twice by only one player, Dont'a Hightower.

The 53rd Prime number is 241

---
On the date of Super Bowl 53, Tom Brady was 184 days after his birthday:


Roman numerals are also used to count Super Bowls.

Super Bowl LII was played on a date with 17 numerology:

Tom Brady was born on a date with 107 numerology:

The only touchdown was scored by Sony

The 17th Prime number is 59
This was the Patriots' 59th season
They won Super Bowl 53

---
Brady's first pass of Super Bowl 53 was an interception


It was intercepted by Cory Littleton, which was a mockery of the fact that Brady is called the Greatest of all-time


Brady was born in '77. The only Patriot to make an interception was Stephon GIlmore

Gilmore has birth numerology of 137 and was 137 days after his birthday:


Gilmore was born on 9/19
919 is the 157th Prime number
Gilmore was born 157 months after Brady
157 is the 37th Prime number
The Patriots won their 37th all-time playoff game

---
This year's Super Bowl capped off the 99th season of the NFL.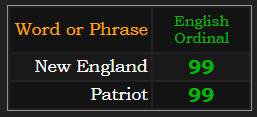 The regular season was played in 2018

The Rams now have an all-time playoff record of 21-26

The halftime show was performed by Maroon Five

This is the year 2019, or just '19. The frontman of Maroon Five is Adam Levine

The 19th Prime number is 67


In Jewish gematria, nineteen sums to 244

New England's coach, Bill Belichick, was exactly 24,400 days old during the Super Bowl: