Damar Hamlin Collapses on Field, Receives CPR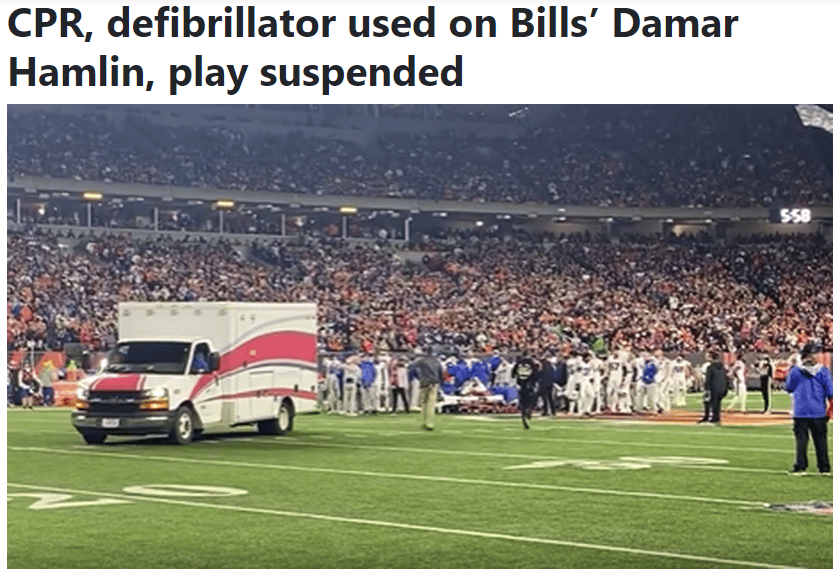 Welcome to 2023 everyone. Things will be weird.
---
Skull and Bones
Truly an unprecedented scene tonight as medics were seen administering CPR to Bills defensive player Damar Hamlin. Scenes of emotional players covered our screens.
The Buffalo Bills were founded on a date with numerology of 97 and 25:


Hamlin turns 25 years old in March
The 25th Prime number is 97
Hamlin wears #3, reminding us of a famous athlete who died while adorned with the number 3, Dale Earnhardt.


Tonight's game fell 9 months, 7 days before the 322nd anniversary of Yale, which hosts the Skull and Bones secret society:



Doesn't the name Damar Hamlin remind you of NASCAR driver Denny Hamlin? Denny was born on November 18th, the 322nd day of the year:

322 is found in the gematria of the number Ninety-three.

---
Saturn: The Keeper of Time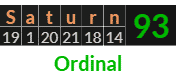 Damar Hamlin, who was born during Brown Lunation # 930, entered the game with 93 career tackles (including assists):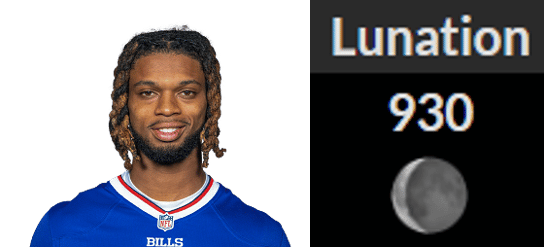 He was hit by a Tamaurice William Higgins.

The clock stopped just as 9:03 had elapsed in the first quarter.


The clock stopped with 5:58 left in Q1
Hamlin's injury occurred at 8:55 p.m.: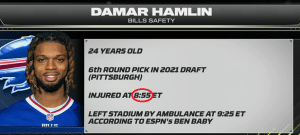 According to Brian Sutterer's video, he suffered from Commotio cordis.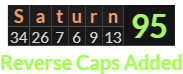 ---
93 is a number connected to Saturnalia, an ancient festival celebrated by Ritual sacrifice.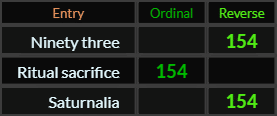 His injury was caused by a man wearing number Eighty-five.

---
Chuck Hughes
In 1971, Chuck Hughes died of a heart condition on the field, still the only time an NFL player has passed away during a game.


Hughes wore #85. Damar Hamlin's injury was caused by a hit from Bengals' receiver Tee Higgins, who also wears #85: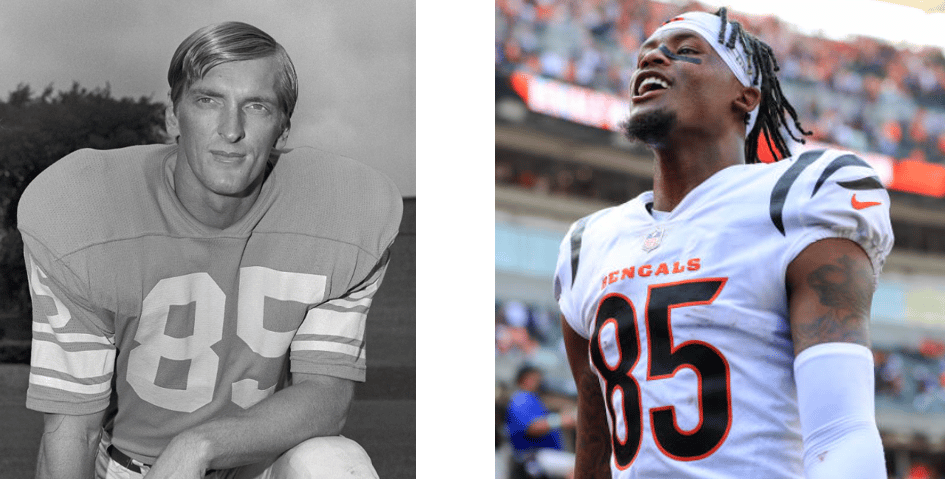 Hughes…Hamlin…Higgins…8-8-8
Saturn is an average of ~888 million miles from the Sun




Back in September, it was Bengals' lineman Josh Tupou who sacked Tua Tagovailoa, causing a scary scene at midfield in Cincinnati, much like this one.

---
"Sacrifice" Code


The Bills were founded on a date with Primary numerology of 116:




---
The score was 7-3 at the time

73 is the 21st Prime
It's been 21 years since Dale Earnhardt died in 2001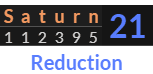 Damar Hamlin was selected in the '21 NFL Draft with the 212th overall pick.


---
More "Saturn" Numbers
Hamlin wears # 3. This points to the gematria he shares with the planet Saturn, whose orbital period is approximately 30 years.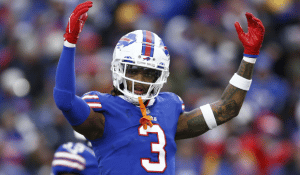 His injury occurred against the Cincinnati Bengals.

---
In Reverse Reduction, Saturn sums to 42.