Beloved News Journalist Barbara Walters Dies @ 93

Journalist Barbara Walters, who graced many of our television sets through the formative decades our lives, has passed away at the age of 93.
"You're not going to try to connect this to the Super Bowl, are you?"
Despite no real intent of doing so, this seems to be paramount to the story.
---
Ronald Reagan
All year, I've been explaining how Ronald Wilson Reagan is connected to the NFL. This relationship is attributed in the numerology of Baker Reagan Mayfield.


This year's Super Bowl is a riddle connected to the 2021 Arch Eclipse and the 2016 death of Prince.

---
Ronald Reagan, much like Barbara Walters, died at the age of 93:

The next First Lady after Ronald's wife Nancy was also named Barbara.


The 93rd Prime number is 487

See the "Vince Lombardi" section below for more on the number 93, which is literally worshipped in some occult circles.
---


This year's Super Bowl will be played on the 112th meridian:




Aaron Rodgers played against Baker Mayfield on Christmas last year, and one week before Christmas this year.

---
Packers Connections

The 57th Prime number is 269
Barbara Walters celebrated her birthday on the 269th day of leap years:


---
Baker Mayfield spent his first few seasons playing for the Browns. Barbara Walters was born in the year '29 during Brown Lunation 83:


Aaron Rodgers was born on the date leaving 29 days in the year '83:

His December 12th birthday can be written as 2/12, which can also represent February 12th, the date of Super Bowl LVII.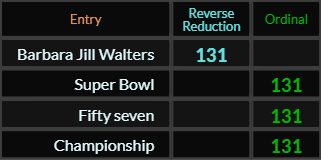 She was a trailblazing Journalist, which also sums to 131.



---
Vince Lombardi
Barbara died on a date with Primary numerology of 84:


The man who led The Green Bay Packers to their first two Super Bowl championships was named Vincent Thomas Lombardi.


Lombardi died on September 3rd, or 9/3

After Lombardi's departure from Green Bay, the Packers wallowed in mediocrity until the arrival of quarterback Brett Lorenzo Favre.

Favre led the Packers back to the playoffs for the first time in the '93 season. After a career in which he won one Super Bowl title, Favre left Green Bay so his backup, Aaron Charles Rodgers, could take over.

Lombardi won Super Bowls 1 and 2, with the first having date numerology of 102. Favre won 1 Super Bowl, and now Rodgers wants 2, with the second one coming 12 years after the first. Super Bowls 45 and 57 both have numerology of 12.

Barbara's death fell on December 30th, or 12/30, a date with numerology of both 12 and 24: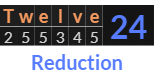 Walters was 24 days younger than Ronald Reagan was when he died.
---

The NFL season began with a win by Bills' QB "Josh Allen" = 96, who was born in '96, the same day that Queen Elizabeth II died at the age of 96, two days after meeting the new British PM on 9/6.

That game against the defending champion Rams fell on September 8th, or 9/8. Allen, who was born a span of 98 days after former Bills' QB Jim Kelly's birthday, will be 98 days before his birthday for Super Bowl 57.