Businessmen Dietrich Mateschitz and Rainer Schaller Both Die Within Hours
Less than two weeks after Max Verstappen captured his second straight Formula One championship as a driver for Red Bull Powertrains, the founder and largest shareholder for Red Bull, Austrian Dietrich Mateschitz, passed away after a long illness:


On the same date he died, another prominent businessman from neighboring Germany went missing when a plane carrying Gold's Gym owner Rainer Schaller went missing off the coast of Costa Rica:

This is a peculiar synchronicity, because:
Red Bull's slogan is "
Red Bull Gives You Wings

"

269 is the 57th Prime number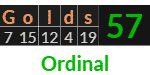 The Moon, which has a 57° range of declination, has Ordinal gematria of 57.


Rainer, Plane crash, and Death all have gematria of 97.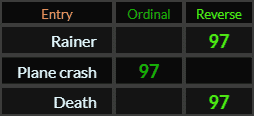 ---
The word Gold on its own sums to 38 and 70.

October 22nd had a Life Lesson number of 38, leaving 70 days on the calendar:

Both of these stories hit the news on the same date, which had Primary numerology of 74:

Notice how Red Bull has the same 74 gematria as Killing.


---
"Sacrifice" Code

The founder of Red Bull (an Energy drink) died 13 days after Max Verstappen clinched the Formula One championship.


---
As with any story involving a plane crash, there's typically some coding around the number 911, which is the value of Ritual human sacrifice in Satanic.

911 is the 156th Prime number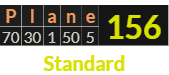 This is the Ordinal value of Thirty-three.

Formula 1 champion Max Verstappen's full name has gematria of 303. Prior to this season, he drove the #33 car. Schaller was the founder of Gold's Gym.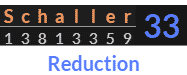 Thirty-three is another number connected to Ritual human sacrifice.



---
In Ordinal, the phrase Ritual sacrifice sums to 154. Schaller joins a long list of people to die in a crash in or off of Costa Rica.

October 22nd fell exactly 46 weeks after the last total solar eclipse. "Sacrifice" = 46. The 46th Prime number is 199 and the 22nd fell a span of 199 days after a DHL plane crashed in Costa Rica earlier this year.
---
"Kill" Code




He was born in the year '44