Max Verstappen Wins Second Straight F1 Championship

Max Verstappen clinched his second consecutive Formula One Championship last weekend, on October 9th. This was the same date that Aaron Rodgers played in London for the first time.
October 9th was the birthday of slain Beatles member John Lennon, from England, who was married to Japanese native Yoko Ono. Verstappen claimed the F1 championship at the Japanese Grand Prix. It had been 11 years since anyone clinched that title with at least four races left.

Verstappen was born in the year '97 and is now 25 years old. 97 is the 25th Prime number. He's driving for Red Bull Powertrains, who are in their very first season, winning the Driver's Championship on a date with a Life Lesson number of 25.


---
John Lennon Museum
On John Lennon's birthday in 2000, Yoko Ono opened the John Lennon Museum in Japan, just 9 days after Max's 3rd birthday. It closed in 2010 on September 30th, or 9/30, which was the 13th birthday of Max Verstappen.

Yoko Ono Lennon was 67 years old when she opened that museum.

The 67th Prime number is 331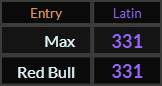 Verstappen won his first championship last year while driving the #33 car. Prior to this season, he switched to the #1 car:

---
Yoko Ono was born in '33


Thirty-three sums to 156 in the alphabetic order.


---


The museum was in Saitama, which is a supermatch with Beatles.



---
Yoko Ono and John Lennon got married in the year '69.