Cardinals Score 28 in First Half En Route to TNF Victory
Earlier this week, I made this post, which explained how this week's Thursday Night Football game between the New Orleans Saints and Arizona Cardinals was a riddle connected to the number 28. Keeping with the script, the Cardinals scored an unusually-high 28 points in the first half, buoyed by two pick-sixes thrown by quarterback Andy Dalton.

With the Saints at 14, this meant 42 points were scored in the first half. This number popped up again in the final score, where the Cardinals got the win with 42 points:

So why is 42 so relevant to this game? This points to another major element of this game that I didn't bother including in my original post. Consider how the Saints and Cardinals are both important to the Catholic Church and its militant Jesuit Order.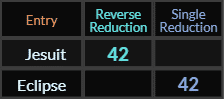 ---
The ultimate "Jesuit" eclipse cycle is solar Saros # 136, which began just hours after 13/6/1360. The Jesuits were founded just 3 days before an eclipse from this Saros.
The last eclipse from Saros 136 traveled directly over Wuhan, China. This led us into the Jesuit "Coronavirus" ritual – the COVID vaccine was approved on December 14th, 2020, the same date as a total eclipse over Argentina, the home of Jesuit Pope Francis.
December 14th was the birthday of legendary Cardinals player Charley Trippi, who died one day before the game. Trippi was 100 years old, which goes to show that numerology is a window to something far more than what humans are capable of doing on their own. "Trippy", isn't it?

---
That Total eclipse over Wuhan, China fell on the 22nd of July, written 22/7 or 7/22. The next eclipse from that cycle will be in the year 2027.


The 2027 total eclipse falls on the 2nd of August, or 2/8, which was the huge number in this game.

In Hebrew, Total solar eclipse sums to 280.

---
A highly-significant number to the New Orleans Saints and New Orleans, Louisiana, which was named after Orleans, is 286.

Last night's game fell 286 days before the date of the 2027 eclipse, or a total of 1747 days:

1747 is the 272nd Prime number