Braves Win Game 4 with 8 & 9 Hitters Going Back-to-Back
When I made my prediction for the Braves to win the World Series in Game 6, I pointed out how it all had to do with the number 89. This made it quite fascinating that the Atlanta Braves began the World Series with its star pitcher suffering a Broken leg in connection to Chas Morton.


See my recent video on the numerology of that incident.
---
In Game 4 last night, there were two major 89 riddles in the game. For the Astros, they became the first World Series team to move a pitcher to the 8 spot from the 9 spot in the batting order since Babe Ruth batted sixth in 1918.
The Braves were losing the game late in the seventh inning, but made a powerful comeback by slugging back-to-back home runs, putting them in front for good. Dansby Swanson and pinch-hitter Jorge Soler became the first 8 and 9 hitters in World Series history to accomplish the feat:

The phrase Grand slam sums to 89.

In the ALCS, the Boston Red Sox remarkably hit a Grand slam three times, breaking a postseason record. In fact, they became the first team with three postseason grand slams since the 1999 Atlanta Braves – who have now made the World Series for the first time since: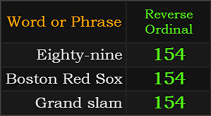 This year's riddle is also connected to the death of Hank Aaron, whose #44 is not only retired by the Braves, but also the Brewers, whom they defeated in the first round. I find it interesting that Braves coach Brian Snitker, who has been with the organization for 44 years, was 44 years old the last time the Braves were in he World Series in '99.

Just a thought…now that the NFL season is 17 games, do you think the Atlanta Falcons will finish 8-9? They currently have a .500 record so I would imagine this is likely to happen.