Cause of Death for Wild 'N Out Star Jacky Oh Revealed

As has become increasingly necessary over time, this is my first of two posts on this story. See my next one to learn about the ridiculous 33 riddle encoded into this story, and how it connects to the Eclipse code.
---
Jacky Oh / Jackie O.
The name Jacky Oh reminds us of Jackie O., of former First Lady Jacqueline Kennedy Onassis.
Jackie Onassis was a span of exactly 3197 weeks old when Jacky Oh was born, and died 3 years, 197 days later:

---
Jackie Kennedy was sitting beside her husband when he was assassinated in 1963.

Jacky Oh died on 

31/5

Her long-term partner was DC Young Fly.

---
"Jacqueline Kennedy"
Kennedy assassination has Reduction gematria of 76.

Jacky Oh was a member of the MTV / VH1 series Wild 'N Out, which just concluded its 20th season.

Now a star of the show named Jacklyn dies due to Complications from Surgery?

Jacqueline Kennedy sums to both 76 and 175.





---
Nick Cannon
Wild 'N Out is hosted and produced by Nick Cannon.
Nick Cannon was born on a date with Primary numerology of 117, matching Jackie Kennedy in Ordinal:





---
The homicide code is widely-recognized as 187:




---
"Murder"



Today's news falls just four days after the season finale of Wild 'N Out aired on September 28th, which raised the show's total episode count from 398 to 399. (source)

---
In Ordinal, Murder sums to 79.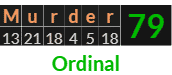 Jacky's death in Miami fell on a date with Primary numerology of 79, just one day before the Miami Heat from Miami, Florida played Game 1 of the NBA Finals:



---
Kill / Sacrifice Code
Jacky Oh died on a date with Primary numerology of 59:


59 is the 17th Prime number




Nick Cannon was born on a date with Standard numerology of 98:


---

Nick Cannon has matching 172 gematria with both Jacky Oh and Jacklyn Smith.

Her cause of death was revealed on a date with Primary numerology of 55:


So does Sacrifice.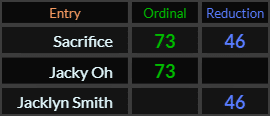 ---
There's more I couldn't ignore…