Death of Jacky Oh and Today's Update is a "33" Masterpiece

My first post on this story explains the remarkable syncs proving the connection between the death of Jacky Oh to Jackie O. or Jackie Onassis, who was the former wife of U.S. President John F. Kennedy.
Jackie Onassis is also tied to Nick Cannon, the host of Wild 'N Out, which Jacky Oh was a cast member of. The show premiered on Onassis's birthday.
---
Thirty-three (33)
In Satanic gematria, Ritual human sacrifice sums to 911.

911 is the 156th Prime number
Jackie Kennedy was born on the date leaving 156 days in the year:


Thirty-three is a significant number of Ritual human sacrifice.


Jacky Oh, whose real name was Jacklyn Smith, died 156 days before her 33rd birthday:

Today is a span of 33 days before her 33rd birthday:

Today is a span of exactly 33 weeks before the 30th anniversary of Jackie Kennedy's passing: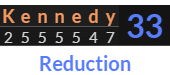 Smith reportedly died due to complications from Cosmetic surgery.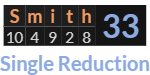 Jacky was from Oakland, while DC Young Fly is from Atlanta, or the "ATL," which is on the 33rd parallel.


She had a Life Lesson number of 33:

The 33rd Prime number is 137

Jackie died on a date with Primary numerology of 137:



---
33 is 

11

×3

Jacky Oh

was born on 11/3


Thirty-three and Thirteen both have gematria of 1515.


---
In the 33rd verse of the Bible, God rests on the Seventh day.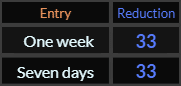 She apparently died from Complications from surgery.

I may eventually have to do a third post on all of the 223 / 322 Skull and Bones connections with this story. We'll see if I bother, since I never even heard of this person until today.
---
Eclipse Code
The number 33 is


Jacky Oh was from Oakland, California.


Smith died 301 weeks, 3 days after the first Great American Eclipse and 313 days before the second one:

313 is the 65th Prime number
She died in
Miami, Florida

---
Half of 313 is 157 when rounded up.


157 is the 37th Prime number