Tourists Visiting Wreck of the RMS Titanic Go Missing


The director of the film Titanic was James Francis Cameron.


Aboard the missing craft was billionaire Hamish Harding.
Hamish Harding was born in '64 (or 1964)

The name of the submarine that went missing is called the Titan.

The date of the disappearance was June 18th, exactly one year after 6/18/2022.

---
"Titanic"
In Reverse, Titanic sums to 113. This is the "the number for dishonesty," as all of these words that allude to dishonesty sum to 113. Consider how many people have pointed out that the ship that hit an iceberg was actually the Olympia, which was swapped out due to insurance reasons.

Hamish was born on a date with numerology of 113 and 50:


The Titanic sank on a date with 50 and 31 numerology:

Hamish and his crew went missing on a date with a Life Lesson number of 31: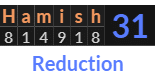 ---
One More Orbit
Harding was the crew pilot for the One More Orbit mission, which set a record for fastest circumnavigation of Earth.



---


One of the main characters of Titanic was played by Leonardo DiCaprio.


---




He is/was a Billionaire.

---
"1331" Eclipse Code
Back in 2021, I made this post on the sinking of the Titanic, which talks about how it's connected to the Eclipse code. The director of the film, Cameron, has perfect matching gematria with Eclipse.

The most significant Eclipse number is 1331, and the Titanic sank on a date with 13 / 31 numerology:


My post explains how the shipwreck was connected to the 1919 Total solar eclipse.

---
The 19th Prime number is 67

Harding vanished on a date with Primary numerology of 67: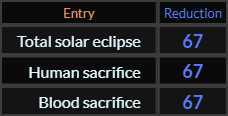 This year's Annular Eclipse also has numerology of 67, in addition to 13 and 31:



---
The gematria of June eighteenth also has an intriguing alignment.

151 is the 36th Prime number