Former NFL Quarterback Ryan Mallett Drowns @ Age 35

Quarterback Ryan Mallett spent a total of seven seasons playing in the National Football League, primarily as a backup. His last three seasons were spent playing in the Baltimore Ravens organization.


Mallett was born on June 5th:

This is the same birthday as Ray Lewis III, who died earlier this month. He was the son of Ray Lewis Jr., who is far and away the best Ravens player in franchise history:

June 5th is written as 6/5
Both men died in the state of Florida.



It may be worth noting the Reduction gematria of Seven in light of the fact that Super Bowl LIX is being played in the year 2025.

---
"Drowned"
In the second half of my last YouTube video before my recent vacation, I discussed the ongoing riddle based on the connections between the Baltimore Ravens and the Catholic Church, which is led by the Bishop of Rome.



The word Drowned also has matching gematria with Mallett.

He died on 27/6

---
Using that significant Latin cipher, Ryan Mallett sums to 797.

797 is the 139th Prime number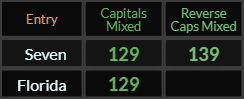 The Raven was published on 1/29

He died on the 178th day of the year:

---
10,000 Days



His death occurred in the city of Destin, which has matching 141 gematria with Poe.


---
Mallett was born on the 157th day of a leap year:

He wore numbers 15 and 7 during his career:
His drowning has been deemed an Accident.