Football Superstar Lionel Messi Takes His Talents to South Beach

Messi's move to the United States of America was first mentioned by Inter Miami on their Twitter page on June 7th:
— Inter Miami CF (@InterMiamiCF) June 7, 2023


Messi is considered to be the greatest player in Argentine history, alongside Diego Maradona, who also led them to a World Cup victory.

Maradona's nickname was The Golden Boy.

The date was June 7th, or 6/7


---
Diego Maradona



171 is the 18th Triangular number

---
The current Bishop of Rome, Pope Francis, is the first pope to have been born in the western hemisphere. He was born on December 17th:

December 17th is also the founding date of Major League Soccer:

December 17th is written as 12/17. This is the Trigonal gematria of Maradona's full name, Diego Armando Maradona.



Inter Miami's nickname is the Herons.

The 173rd Prime number is 1031

---


---
Javier Morales
June 7th is written as 6/7. The number 67 is the 19th Prime, and Messi's June 24th date of birth leaves 190 days on the calendar.

The head coach of Inter Miami is Javier Morales.


For most of his club and international career, Messi has worn #10. Morales was born on January 10th, the 10th day of the year: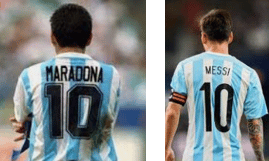 ---
Freemasonry
June 7th, or 6/7, is the 158th day of the year:

Messi was born on June 24th, which is the anniversary of modern Freemasonry.

The 158th Prime number is 929



---
The "GOAT" of futbol will begin playing for Miami here in 2023. 223 is the 48th Prime number – the club is owned by legendary English player David Beckham, who is currently 48 years old.



Inter Miami was founded on 1/29, or January 29th, 2018.


---



---
Gematria Matches
There are 29 teams in Major League Soccer. Why would Messi sign with Miami over all the others?
This announcement cements what has to be one of the craziest months in Miami sports history. The Miami Heat are currently playing in the NBA Finals as only the second 8-seed to ever make it that far. Just up the coast, the Florida Panthers are the fourth 8-seed to be playing in the Stanley Cup Finals.
Lionel Messi has more overlapping gematria with Club Internacional de Futbol Miami than just the 132 above.

The club's formal name is Inter Miami CF.

They're based in Miami, Florida.