Nuggets Take Game 1 of NBA Finals Over Miami Heat
Yesterday, I made this video on Joe Biden falling on stage during an Air Force graduation ceremony. Within, I spoke about how the event was a numeric riddle connected to the arrest and release of WNBA player Brittney Griner, as Joe fell on the date of Game 1 of this year's NBA Finals in Colorado. The US Air Force and Colorado have the same August 1st anniversary.
Shoutout to Forevers12 from YouTube for pointing out in the Comments section that this may also be connected to the 1944 disappearance of musician Glenn Miller, who along with his bandmates were officers in the US Air Force. Glenn Miller and His Orchestra are one of the most popular "big band" groups of all-time and for several years they were America's best-selling artists.

Glenn Miller disappeared while flying over the English Channel. This is highly-relevant to what I discussed yesterday, as Mercury is the god of travelers.

Recall how 193 was a primary number of yesterday's story. Joe Biden fell 193 days after his birthday, like how John F. Kennedy = 193 was Assassinated = 193 at exactly 193 Mercurial years old. This post will examine the freakish alignments between Glenn Miller and the Miami Heat, particularly their star player Jimmy Butler.

193 is the 44th Prime number
Miller disappeared in '44
If Jimmy Butler's mom's pregnancy lasted exactly nine months, then he would have been conceived exactly 44 years after Miller's flight vanished.
---
The US Air Force was founded in 1907

There were a total of 197 points scored in last night's Game 1. The Miami Heat scored 93 of them in their loss to the Nuggets: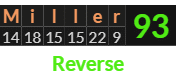 The 93rd Prime number is 487
This is the number Alton Glenn Miller shares with Jimmy Butler.

---

The 35th Prime number is 149


Jimmy Butler was born on the 14th of September, or 14/9:


Butler and the Heat lost to the Nuggets.


449 is the 87th Prime number

---
In Latin gematria, the name Miller has a matching 164 sum with Miami Heat in Reverse.

If the Heat win three games this series, they will have a total of 164 playoff victories in team history. If they win the series, they'll have 1640 total franchise wins. Recall how Jimmy Butler first played in the NBA Finals in 2020, 164 days after the release of The Last Dance documentary.
---
Joe Biden / Denver Nuggets
Note the remarkable overlap with Denver Nuggets and Alton Miller, Glenn's real name.



---

The NBA Finals sums to 322, the inverse of the current year, 2023.