Joe Biden Tumbles During Air Force Graduation Ceremony

Biden's fall occurred during a Graduation ceremony for the United States Air Force (or USAF), which was originally founded on August 1st of 1907.


Today is June 1st, or 6/1

June 1st is the 152nd day of the year:

Joe Biden shares 152 gematria with JFK.

---
JFK / Mercury
This is not the first time I've decoded an incident where Joe Biden fell down. Back in 2021, I made this post explaining why we were almost certain to see a riddle connected to JFK in the news on March 19th, 2021. Sure enough, on that exact day, Joe Biden fell on his way up the stairs of Air Force One, the president's private airplane.
Now, Joe Biden has fallen down at a graduation ceremony for the Air Force. Seems more than just a coincidence, doesn't it?
---
Joseph Robinette Biden fell up the stairs of Air Force One on the 19th of March, or 19/3.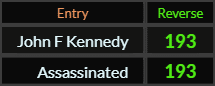 Mercury is the god of travelers. The President travels using Air Force One.

John Fitzgerald Kennedy was a Gemini, which is ruled by the planet Mercury. He was born in 1917, while he and Biden's full names both sum to 109 and 107.

---
Joe Biden has a solid connection to Mercury – recall how Biden got Brittney Griner, who plays for the Phoenix Mercury, back from Russia in exchange for a convicted arms dealer. This is particularly relevant since Griner is a basketball player, and today marks the beginning of the NBA Finals.
Griner was arrested on 17/2 last year




---



---
"Freemasonry" Riddles
The planet Mercury has a synodic orbital period of ~115 days.


The Killing of JFK from a Warehouse fell on a date with Primary numerology of 115:



Mercury being the god of Travelers is relevant to basketball, where Traveling is an offensive turnover.

115 matches both US Air Force and Masonic.


Just like Federal Aviation Administration in Ordinal, United States Air Force sums to 308 in Reverse.


---