Derrick White Saves a White Derek's Prediction
On May 26th, I made this YouTube live stream talking about the ongoing Eastern Conference Finals between the Boston Celtics and Miami Heat. Within, I talked about why I believed the series was destined for a Game 7, as there were deep numerical connections with the 2004 ALCS between the Boston Red Sox and New York Yankees.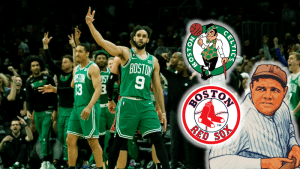 In 2004, the Red Sox ended the "Curse of the Bambino," which began when they traded Babe Ruth to New York. The Babe's full name was George Herman "Babe" Ruth.

Boston won last night's game by a score of 104 – 103:

The Babe was traded in December of 1919. That's 104 years before 2023.


Remember that this series began exactly 223 months after the Red Sox began their comeback in Game 4. This is the '22–'23 NBA season.

---
Notice how my video's thumbnail featured Celtics guard Derrick White. I did not intend to choose the player with the same first name as me, but as fate would have it, he was the Celtics' hero, scoring their game-winning bucket in what was literally the game's final tenth of a second. As for his last name…well, I'm white.
Derrick White wears #9: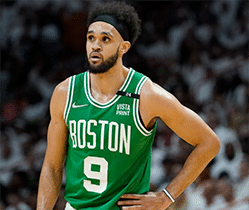 He was able to score his winning bucket because the referees added 0.9 seconds to the clock before Boston inbounded the ball.

This syncs up with my last name.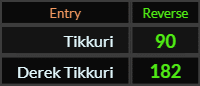 White was born on the date leaving 182 days on the calendar, which had Primary numerology of 122:

---
Could there have been some Masonic magic in last night's ending? See my post on how the Nuggets' trip to the Finals is strongly-connected to Freemasonry.
Last night was the Celtics' 407th franchise win in the postseason. The compass of Freemasonry is set to 47 degrees.



191 is the 43rd Prime number


This was the Miami Heat's 284th playoff game in franchise history. Maybe this is all because Freemasonry has matching gematria with Babe Ruth.

---
So who wins Game 7 and advances to play against the Denver Nuggets?
I can't guarantee a pick before the game. Remember, I have a bit of a different take on sports gambling. I think it's better to look more than one game ahead to spot dates on which potential alignments could occur.
What do I mean by that? Well, how many times have you seen the numbers line up PERFECTLY for a win in one direction, and loss in the other – only for the game to go the wrong way, leaving you baffled?
It seems as if major sports games are set up (on some level) to tease you with strong numerical alignments, but they hold very little bearing on who actually wins that game.
So while the numbers for this series clearly pointed to the Red Sox' 2004 comeback, that doesn't necessarily mean the comeback will be completed. But it sure seemed like we would GET to Game 7, which is why I felt confident enough to make a prediction public.
---
I've faced my share of criticisms about my sports picks in the past, which I should expect, but hasn't really bothered me since a) I've never claimed to have magic powers, b) I have made some really good calls, and c) I've won 11 of my last 12 sports bets dating back to 2022. The only loss I had was my futures pick with the Packers going to the Super Bowl. While that turned out to be a pretty big whiff, you can't deny that I was right when I said something very significant was going on with the Packers and Vikings.
So after many years of narrowing my methods down, I feel like I finally have a knack for what's going on. That doesn't mean I'm going to start churning out more sports posts, however – my goal is still to show people how powerful and relevant gematria is, not how to use numbers so everyone can just sit on their ass and watch sports. I don't even like sports that much – especially basketball. Although if you can show me more endings like last night's…