14-Year-Old Bull Rider Dies During Competition in North Carolina

The competition was held by the Rafter K. Rodeo Company in the first month of 2023.

Denim Bradshaw died in the city of King, N.C.

---
Mason Lowe
In January of 2019, I made this post on the death of professional Bull rider Mason Lowe during a competition in Colorado.


173 is the 40th Prime number

Bradshaw

died at age

Fourteen

In that post, I explained how the incident was connected to the 1989 death of Lane Frost, who was killed in similar fashion. Here we are four years later, again in January, and now we've learned about the death of 14-year-old Denim Bradshaw at a bull riding competition.
---
Lane Frost
Lane Frost was born on the 12th of October, or 12/10: and died at the age of Twenty-five:





Denim Bradshaw died 257 days before what would have been Lane Frost's 60th birthday:


---
Bradshaw died at the age of Fourteen in King, N.C.

Frost had Primary birth numerology of 104 and 41: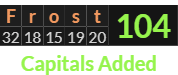 ---


Bradshaw was born on 10/8

---
290


These are the same three digits in Lane Frost's full name, Lane Clyde Frost.

Emergency services were called for a response to Bradshaw's injury at 8:24 pm:

He died on the 28th of January, or 28/01. Lane Frost died at age Twenty-five.
---
The number 824 has Ordinal gematria of 290.

The competition hosted by the Rafter K. Rodeo Company was held at American Legion Post 290 on Main Street.



The number 290 has Standard English gematria of 2235.


---
Why is the number 290 so important to Lane Frost?




Frost died on a date with Standard numerology of 126:

Mason Lowe was born on the 12th of September, or 12/9. Bradshaw's death at the Rafter K. Rodeo Winter Series first made the local news on January 29th, or 1/29.

The death Denim Bradshaw, whose mom refers to him as "My lil Cowboy", made local news on the 29th day of the year: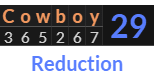 ---
420




---
Conspiracy Corner
The article appears to suggest that Bradshaw's death, which was attributed to cardiac arrest, happened because he was stomped in the chest by the bull:

That certainly stands to reason, and is what one would expect to have occurred.
But earlier on in the article…

Wait…what?!