Rapper Takeoff Shot and Killed in Houston @ 28

---
"Rockets"
Takeoff, whose career began in the year 2008, was shot at the age of 28 in Texas, the 28th state admitted to the Union.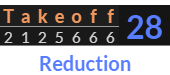 He was killed in Houston. This stands out because not only is Houston currently playing in the World Series, but they are also home to the NBA's Rockets. Below, I'll also explain how this connects to the murder of fashion designer Gianni Versace.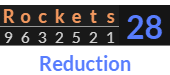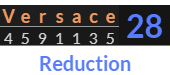 This connection is cemented by the fact that Takeoff's only solo album was called The Last Rocket. The day after his death is the anniversary of its release.
The word Kill sums to 28.

Also note the Reduction value of 17. On the night he was killed, the Houston Rockets lost, dropping their record to 1-7:

A total of 188 points were scored. Takeoff and his group Migos were from Lawrenceville.

---




If Houston wins the World Series, it will be their 77th franchise victory in the postseason. The Last Rocket was released on November 2nd, the date written 11/2.

On the same date, we learned that SpaceX's Falcon Heavy, the world's most powerful Rocket, was launched for the first time in three years:


---
Bowling Alley
Takeoff was shot outside of a Bowling alley. Particularly noteworthy, considering his real last name is Ball.

137 is the 33rd Prime number

Accompanying Takeoff on the night he was shot was his uncle Quavo, who also grew up on the 33rd parallel near Atlanta, or the ATL.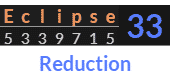 Takeoff was 3 years, 3 weeks old when Giovanni Versace was killed, and would go on to die 303 months later:

---
Versace
Something that stood out to me right away about Migos is that their debut single was called Versace. The eponym for this song was Giovanni Versace, who, just like Takeoff, was gunned down and found dead at the scene.


The number 911 flipped upside-down is 116




---
Versace was killed on the 15th of July, or 15/7, syncing up with the name of Takeoff's lone album:


This connects to Quavo's real name, Quavious Marshall.

---
More Alignments
Ball was in Migos from Lawrenceville, Georgia. He was born on the 18th of June, written 18/6 or 6/18.

He died on the night of Halloween, which had Primary numerology of 83 and 47, connecting to his full name: