Queen Elizabeth II in Poor Health, Family Called In

Today has Primary numerology of 59:

59 is the 17th Prime number
Today is a span of exactly 17 months after the death of the Queen's husband, Prince Philip, and a span of exactly 1 year, 7 months before the 2024 Total solar eclipse:

Why is the 2024 eclipse over The United States of America so significant? This is the Trigonal value of her full name.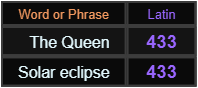 That eclipse falls on the 99th day of a leap year:



Recall how her husband Prince Philip died at age 99 on the 99th day of the year.
---
Queen Elizabeth II was born on April 21st, the date written 21/4 in England.


Her birthday can also be written as 4/21, and 421 is the 82nd Prime number.

The 2024 eclipse occurs 82 lunar phases after the 2017 eclipse that also passed over the United States, and it is currently 82 weeks before it:

---
Metonic Cycle
Queen Elizabeth is heavily-coded alongside the Metonic cycle, which is made up of 235 lunar phases. Her April twenty-first birthday has this gematria in Ordinal.

The Reverse value of 197 matches both Metonic cycle and Nineteen years.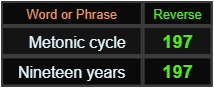 Every 19 years of the Hebrew lunisolar calendar, 7 of them have a Thirteenth month.

---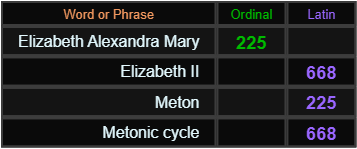 The Metonic cycle is a period of almost exactly 19 years. Today is exactly 19 months before the 2024 eclipse: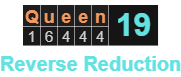 ---
Balmoral Castle 9/11
The phrase Total solar eclipse has Latin gematria of 704, similar to The Metonic cycle in Reduction.


Her health has now fallen to poor enough of a condition that family has been called in to be by her side at Balmoral Castle in Scotland.

Today is a span of 74 weeks after the death of her husband Prince Philip, who was the Duke of Edinburgh in Scotland:

---
911 Coding
The Metonic cycle is also made up of 254 sidereal months. In Standard English gematria, Balmoral sums to 254.

The Queen was born on April 21st, the date leaving 254 days in the year:

I find it interesting that we're so close to September 11th, which is the 254th day of the year:

This year, September 11th has numerology of 62 and 26:




Elizabeth II, who was born in the year '26, became the Queen after her father King George VI died on February 6th, written 6/2 or 2/6, which was the date of her Platinum Jubilee earlier this year. She turned 26 later that year, and was coronated the following year on June 2nd, written 6/2 or 2/6.
---
September 11th is written 9/11, which is connected to the Greek value of Total eclipse.

Today is 911 days after the World Health Organization declared a COVID-19 global pandemic:

911 is the 156th Prime number