CM Punk Gets in Fight w/ Young Bucks, Titles Vacated
It was announced tonight that both the AEW World Heavyweight Championship and the brand new AEW Trios Championship would both be vacated on the heels of the ugly events that occurred after their pay-per-view show All Out on Sunday. After champion CM Punk (Phillip Brooks) used the media scrum to attack AEW executives, he was confronted by The Young Bucks (Matt and Nick Massie) backstage, where a fight ensued.
The event is being reported as real, but it's important to be skeptical about anything that has to do with wrestling, particularly in an age where working the fans has become so much more difficult. Regardless of whether or not this was staged, the numerology is quite significant.
The story right now is that CM Punk threw the first punch, going after Matt Jackson of the Young Bucks. Punk's birthday is October 26th, or 10/26.




Massie was born on March 13th, or 3/13:

---
The event was called AEW All Out.


At the end of the show, he was confronted by MJF, who was returning from a long absence.

He'll be 44 years old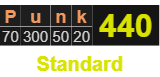 Massie and his brother use the ring name Jackson.

This event occurred the exact same day that Pope John Paul I was beatified. As I mention in that post, it's a riddle connected to the Beatles, whose popular Get Back documentary was directed by Peter Jackson.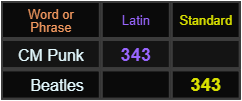 Jackson is best-known for directing The Lord of the Rings series, and a new Lord of the Rings TV series just premiered on Amazon on September 1st.
---
Miscellaneous

This is a very interesting number – it's connected to the 1331 Eclipse code. The number 1331 first appears in Pi at the 16,019th digit, and 16,019 sums to 1331 in gematria.

In Ordinal, 1331 sums to 233, which is both a Prime and a Fibonacci number.

Punk and Jackson were born 2330 days apart:

---
CM Punk has that special 156 gematria with capital letters.

His comments were centered around his past friendship and subsequent fallout with Colt Cabana (Scott Colton).