Author Salman Rushdie Stabbed Before Giving Speech

The name Salman Rushdie is so intriguing. Stabbing a salmon is often done when preparing one. And if you were in a rush to die, making fun of Mohammed in a widely-distributed publication could be a decent strategy.
In 1989, the government from Iran issued a bounty to kill Rushdie, which is why someone would Stab him. It happened on a date with Standard numerology of 42: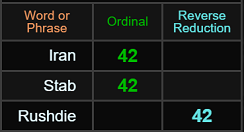 Rushdie's full name sums to 311 in the Reverse alphabetic order.


Salman is currently 75 years old:

The man who is accused of stabbing him in the Neck is named Hadi Matar.


The bounty on Rushdie's head was issued after the publication of his book, The Satanic Verses, which syncs up with his June 19th or 19/6 birthday.

---
The word Stabbing has Latin gematria of 251.

251 is the 54th Prime number


He was victimized because of controversy he stirred writing about Islam.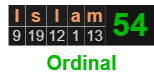 Specifically, many Muslims believed Salman Rushdie had been blasphemous against the prophet Mohammed.

He was stabbed in Chautauqua, New York, which also sums to 72.

---
Doesn't Salman remind you a lot of Jamal Khashoggi?