Broadcasting Legend Vin Scully Dies @ 94

For an unrivaled 67 seasons, Vin Scully was the voice of the Dodgers. He started way back in 1950 when the team still played in Brooklyn, followed the team to Los Angeles, and announced his retirement in 2016.
Before talking about any numbers, let me just gush about Vin for a moment. In 2007, I briefly moved to North Hollywood. During my time out west, I found myself stopping the radio on Dodgers' games quite often, where I quickly gained an appreciation for Scully's entrancing style.
Living in Milwaukee, I always thought Bob Uecker was the greatest announcer of all-time, but I will never argue with anyone who says Vin was the best. His voice encapsulated Americana, and provided the soundtracks to some of the game's greatest moments.
---
Scully passed away yesterday, August 2nd, which fell exactly 70 months after his final broadcast – when the Dodgers played the Giants: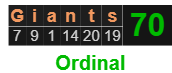 On the same day he died, the Dodgers defeated the Giants to earn their 70th victory of the season.

The win pushed their record to 70–33:

The 33rd Prime number is 137
It's likely worth noting that August 2nd was 117 / 118 days after the start of the delayed season. "Dodgers" = 117. "Los Angeles, California" = 118, and it sits on the 118th meridian. This season culminates with the 118th World Series.
---
When Scully began his career, Jackie Robinson was still playing for the Dodgers. Earlier this year, I made this post which pointed out how Jackie Robinson Day in 2022 was of particular significance. This was confirmed a few days later when we got a strange news story about a woman being killed before she was dragged on to Jackie Robinson Parkway.
A big part of that riddle is the death of Chadwick Boseman, who died on Jackie Robinson Day in 2020. Boseman portrayed Robinson in the 2013 film 42, and he shares a November 29th birthday with Vin Scully:

Both men have matching gematria with their full names.

Additionally, Vin Scully and Vince Scully have gematric overlap with Jackie Robinson.



---
In the alphabetic order, Chadwick Boseman sums to 131, which matches Jackie's middle name Roosevelt.


Vin Scully announced his retirement on January 31st, or 1/31, in 2016:

Jackie Robinson was born on January 31st, or 1/31:

---
19
Jackie Robinson was born in 1919
The number 19 is very significant to Los Angeles, which has matching gematria with the 19-year Metonic cycle.

Los Angeles

hosted the

All-Star Game

on 19/7


Vin Scully died 109 days after this year's Jackie Robinson Day:


Hall of Fame Dodgers manager Tommy Lasorda died a span of exactly 19 weeks after Chadwick Boseman:


His wife died on

1/3/21

Recall how the Dodgers won the 2020 World Series on October 27th, or 10/27.

The
Metonic cycle

is measured by exactly 235 lunations

---
Gilbert Gottfried
Robinson was born in 1919, and 19×19 = 361.

Another event connected to the Jackie Robinson Day riddles I discussed in April was the death of Gilbert Gottfried.

Gilbert was born in, and died in, the borough of Brooklyn, New York, where the Dodgers played before moving to Los Angeles. On the same day he died, there was a mass casualty event on a subway train in Brooklyn.
There was a lot of speculation that Gilbert died because of the COVID-19 vaccine, which he initially promoted. He died a span of exactly 109 weeks after the WHO declared a global pandemic:

Gottfried died at age 67, the 19th Prime number. Scully broadcast Dodgers games for 67 years. He was born on (11) + (29) + (27) = 67. Actor/model Godfrey Gao died 67 days after his birthday in the year '19.
Godfrey Gao was Taiwanese. On the same day we learned about Vin Scully's death, Speaker of the House Nancy Pelosi visited Taiwan:

---
In the standard alphabetic order, Brooklyn sums to 112.

Vin Scully died 112 days after Gilbert Gottfried: