Dow was 77 years old. His death remained in the headlines the following day, which had Primary numerology of 77: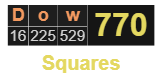 ---
Tony Dow played Wally, whose full name was Wallace Cleaver, on Leave It to Beaver, and has passed away in the city of Topanga Canyon, CA.

Tony Dow's death was mistakenly announced on July 26th, one day before he actually died. On that same date, Danielle Fishel, who played Topanga on Boy Meets World, was in the news regarding her time on the show:

Why would Boy Meets World be connected to Leave It to Beaver? Well 20 years after its final episode, Leave It to Beaver was rebooted with a new series called The New Leave It to Beaver, which featured most of the same cast, just older. This is not a very common practice in American television; however, Boy Meets World received a similar reboot in 2014 when the show Girl Meets World premiered on the Disney Channel about fifteen years after its predecessor's final episode.
The male star of those shows is Ben Savage.
Tony Dow died on the 208th day of the year, which had Primary numerology of 76:


Ben is the brother of Fred Savage, who was the star of The Wonder Years for its six seasons. Earlier this year, that show also got a similar reboot, although it was done with a different cast. Fred was fired as the show's producer in May after allegations of misconduct, which is a big reason the original series was cancelled too.
---
Later that same day, singer Amy Grant was hospitalized following a Bike accident (or Bike crash), which also connects to 76 and 208.


Amy's full name is Amy Lee Grant
Tony's full name is Anthony Lee Dow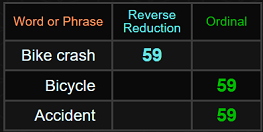 The 59th Prime number is

277


Tony Dow died on the 27th of July, or 27/7


Tony was Seventy-seven when he passed away. Notice how Seventy-seven also has matching 59 gematria with Boy Meets World.

The actress who played Topanga on the 90's sitcom is named Danielle Fishel.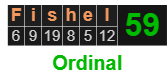 ---
Eddie Haskell
Last year, I made this post on a wild synchronicity connected to the death of of Ken Osmond. On Leave It to Beaver, Osmond played Eddie Haskell, who was Wally's best friend.

Tony Dow was 28,229 days old when he died 2 years, 2 months, and 9 days after Eddie Haskell:

229 is the 50th Prime number