Donald Trump's First Wife Ivana Dies @ 73




Today is the 14th of July, or 14/7. Throughout her marriage to Donald Trump, she held various positions in The Trump Organization.

---
Today has Primary numerology of 63, matching her common name in Reduction both forwards and backwards:


In Full Reduction, her name sums to 45.

She was born on a date with a Life Lesson number of 45:

Trump was President #45
Today has Multiplicative numerology of 224:


If Trump wins again in 2024, he'll also be President # 47.
---
Marriage to Trump

Ivana matches Trump when Reversed.

Their marriage took place on April 7th, or 4/7


Trump was born on the 165th day of the year, matching the Ordinal value of her name when they met:


---
Ivana was a
Czech

native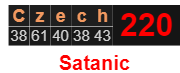 She was born on February 20th, or 2/20
---
The Moon
Her February 20th birthday is also written as 20/2
The 202nd Prime number is 1231
This gematria is found in two of her three children's names. The third, Donald Jr. was born on December 31st, or 12/31.

She died during Lunation #1231:

Ivana had Primary birth numerology of 90, which was also the 51st day of the year:



---
Lunar Eclipse Riddle
Donald Trump was born on June 14th, 1946, which was the same date as a Total lunar eclipse.

Total lunar eclipse sums to 445 in Hebrew. Trump was the 44th man to be president, but was president #45.

---
His first wife, Ivana Trump, has matching gematria with Lunar Eclipse.

The 135th Prime number is 761

---
The next Total Lunar Eclipse falls on November 8th. Notice how CNN coded their headline with the number 647:

647 is the 118th Prime number
November 8th is written as 11/8
This syncs up with Ivana's maiden name.



Donald Trump is in his 1018th Sidereal month (lunar orbits). Her death fell during the time of Cancer, the only sign ruled by the Moon.

Ivana's full name even has matching Ordinal gematria with One hundred eighteen.


Ivana's birth sign was Pisces, which is ruled by Jupiter. Her death fell 811 days after her last Jovian birthday.