Columbine High School Riddle in Anna Wilson Story
As I pointed out in my last post, Anna Wilson went by the nickname "Mo", which was short for her middle name "Moriah". It's being reported that a woman named Armstrong killed her, which is wild because everybody in this story is a cyclist.


Moriah Wilson also sums to 156 and 69.

Recall that an Eclipse always occurs 1, 5, or 6 lunar phases after the last.

---
In Reverse order, Moriah Wilson sums to 168. Her death happened prior to a cycling race called Gravel Locos.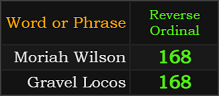 Wilson was born in Littleton, New Hampshire a span of 1068 days (or 1067 without the end date) before the Columbine shooting in Littleton, Colorado:


The number 1204 is actually coded into the date of the Columbine shooting, which occurred in a "1" year on the date 20/4. There will be a Hybrid Eclipse on Columbine's 24th anniversary next year.
The shooting date, April 20th, can also be written as 4/20.

---
Another major Eclipse number is 666. The shooting at Columbine High School happened in 1999.

Wilson, who was born in 1996, would be 9499 days old today:


---
My first post on this story explains how this story is a riddle connected to the Moon landing. The Columbine shooting fell exactly 357 months (or 10866 days) after the Moon landing:


NASA was founded in the year

'58


"Anna Wilson" = 58


Littleton, Colorado has coordinates of 39­° and 105°:


The area's major airport is Denver International, which famously has this plaque dedicated to Freemasonry, whose highest degree is the 33rd. Denver, Colorado is home to the 303 area code.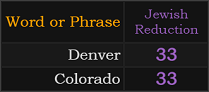 ---
Today's story falls on the 21st of May, or 21/5. The Columbine shooting was in 1999, which has matching gematria with Lance Edward Armstrong and Annular solar eclipse.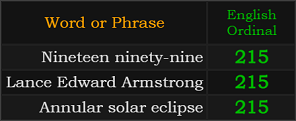 Wilson's suspected killer is named Kaitlin Armstrong.