Justin Bieber Performs at Saudi Arabian Grand Prix

Beiber performed in Saudia Arabia for the first-ever Formula One Championship race at the brand new Jeddah Corniche Circuit on December 5th, or 12/5.


---
The protests were due to the 2018 Ritual human sacrifice of journalist Jamal Khashoggi.

Bieber was born on March 1st, which is written as 1/03 in Saudi Arabia.

British sensation Lewis Hamilton qualified first to earn his 103rd Pole Position, and went on to win the race for his 103rd Formula One victory on a date with numerology of 13:

This happened to be during Week 13 in the NFL, who is playing the Super Bowl on the 13th day of the month for the first time in almost half a century.

---
Eclipse Sacrifice Code
The race fell on the same weekend as the only Total Solar Eclipse of the year.



Yesterday's race was the 1,056th in the history of Formula One: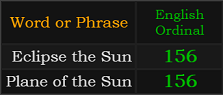 The 156th Prime number is 911



---
Justin Bieber was born in 1994, and his name is a supermatch with Solar eclipse.


118 is also the Ordinal value of Jeddah, Saudi Arabia.

---
Lewis Hamilton's full name sums to 393, one of just three numbers (along with 133 and 331) to have Jewish gematria of 1331:

1331 is the ultimate Eclipse number. The race was in Jeddah.