2021 Kentucky Derby Winner Medina Spirit Dies at Santa Anita

The date of this story at Santa Anita racetrack is December 6th, or 12/6.



This year's Derby was on 5/1
The 51st Prime number is 233

233 is the 13th Fibonacci number

Medina Spirit, who was born on April 5th, or 4/5, belonged to record-winning breeder Bob Baffert, who was born on the 13th day of the year:

---
"13" Riddles
This racehorse died during Week 13 of the NFL season. Horses, who gallop, are classically ridden by Cowboys.
Last month, Cowboys wide receiver Michael Gallup , who wears #13, was activated off of Injured Reserve on the 13th of November, which was 13 weeks before the Super Bowl. He helped Mike McCarthy earn his 13th win with the team 1 year, 313 days after he was hired. This all happened the same weekend that Sam Huff died in a massive "13" riddle.
The Cowboys, whose logo is a Star, are from Dallas, but play their home games in Irving, Texas.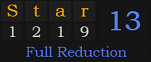 The 13th Prime number is 41

---
Medina Spirit won the 147th Kentucky Derby

He would have been 201 weeks, 3 days old on 2/13, the date of this year's Super Bowl:

---
Michael Gallup Connections


277 is the 59th Prime number
Today has Primary numerology of 59:


In this Jewish/Latin cipher, Ritual sacrifice sums to 616.


---
CNN last updated their article at 1:37 pm: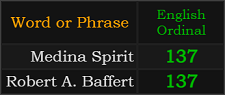 137 is the 33rd Prime number


Bob Baffert will be exactly 829 months old on the date of the Super Bowl. That's the 145th Prime number, and "Cowboy" = 1405.