Jerome Listecki, the Jesuit Archbishop of Milwaukee

It's being reported that one of the victims of yesterday's vehicle ramming attack in Waukesha was a Catholic priest. A number of the young girls struck were Catholic school children. As a result, Milwaukee's archbishop, Jerome Listecki, has spoken out about the tragedy.
Yesterday's ramming attack began at 4:39 pm:


Listecki's middle name is Edward, which is the same middle name as the man arrested. He had been let free on a ridiculously-cheap bond just ten days earlier. Did this guy really drive over small children on his own volition? That didn't happen because he was "fleeing a stabbing." Something truly reeks here.
---
The incident in Waukesha is all over the headlines today, 11/22. This is the Trigonal value of Jerome Listecki.

11/22 was the date of the JFK Assassination, often called the JFK Conspiracy.

This was just two days after Kyle Rittenhouse was acquitted.


Vehicle ramming attack also sums to 1122. The media hasn't yet reported a birthday, but according to a quick search on CCAP, it's 21-Feb-1982. You can find him by searching his full name, Darrell Edward Brooks Jr.

His common name matches The Jesuit Order in Reverse.

---
The 2017 Las Vegas Shooting was also a tribute to the JFK assassination.
Yesterday's attack at the parade fell exactly 216 weeks after the Vegas shooting:

In 2016, there was a similar ramming attack in France when a man named Mohamed Lahouaiej-Bouhlel drove his car through crowds of people on the promenade.

216 is 

6

×

6

×

6
The JFK assassination was in 1963. The Vegas shooting fell 19,673 days later:

That's also 666 lunar phases and 6 days.

4:39 pm is the 999th minute of the day. His rap name was Mathboi Fly.

This tragedy occurred during Lunation number 1223. The SUV did not strike anybody until after passing Barstow.

The Vegas shooting occurred just four days after the Jesuit Order turned 477 years old.


Early Sunday morning, there was a death announced at the end of SNL Season 47, Episode 7, when producer Lorne Michaels was 77 years, 4 days old.
---
JFK died during his 16,979th day since birth. That's the 1957th Prime number. Yesterday's incident at the Waukesha Christmas parade fell 1957 days after the 2016 Nice truck attack.

---
Jerome Listecki
Jerome Edward Listecki became Milwaukee's archbishop in 2010.

201 is a significant number to The Jesuit Order, whose first Pope, Jorge Mario Bergoglio, has 201 gematria like the order's first superior general, Ignatius of Loyola.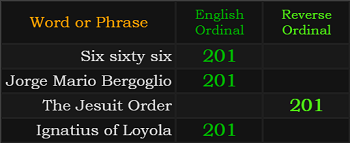 The Jesuit Order is also known as The Society of Jesus. It was officially established in 1540.



Ad Majorem Dei Gloriam is the Jesuit motto in Latin. The Jewish cipher is based on the Latin alphabetic order.