Raiders/Seahawks Fullback Steve Smith Dies @ 57

Former NFL fullback Steve Smith, who spent most of his career as a member of the Los Angeles Raiders, has passed away after a battle with Lou Gehrig's disease.

Lou Gehrig's disease is the nickname for Amyotrophic lateral sclerosis, which has Sumerian gematria of 1986.

Steve Smith won the 1986 College Football National Championship with the Penn State Nittany Lions.
---
The Raiders now play in Las Vegas, Nevada, which sums to 83.



---
Steve Smith was the winner of the inaugural Madden Bowl during the 90's, where NFL players square off against one another in the famous football video game.
Steve Smith was the Raiders' RB3 in Tecmo Super Bowl, one of the most famous football games of all-time. In that game, he would block for Bo Jackson and Marcus Allen, two legendary Raiders running backs who were both excellent in the game.


Just yesterday, Bo Jackson was made a face of the Madden NFL franchise:

---
"Sacrifice" Code
Lou Gehrig died in '41. Steve Smith died on November 20th, the date leaving 41 days in the year:


41 is the 13th Prime number


---
November 20th also had Standard numerology of 52:


269 is the 57th Prime number
Smith died at the age of 57
Although I hadn't posted about it until now, there is an insane riddle for the Raiders to go to Super Bowl 57. Today's news could easily be construed as another clue, especially with the connections to Madden, who will no doubt be big to the Raiders' next trip to the championship game.
That Super Bowl will be played on a date with 57 numerology on 2/12. Smith died 2 months, 21 days after his birthday in 2021.

---


Steve Smith had a Life Lesson number of 58:


---
Stephen A. Smith
Smith's full name was Steven Anthony Smith.

This is virtually identical to Stephen Anthony Smith, which is the full name of ESPN douchebag Stephen A. Smith:


331 is the 67th Prime number
Stephen A. Smith was born in '67 on October 14th, which is the date of the 2023 Annular Eclipse over the United States, which falls on a date with 67 numerology: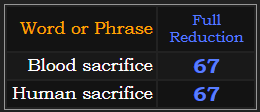 Steve Smith the fullback was born on a date with Primary numerology of 121:


---
The former Raiders star died on November 20th, the date written 20/11.




211 is the 47th Prime number

The name Smith sums to 33, which is also associated with Ritual human sacrifice.