Braves Lose 9-5 In Game 5
So far, so good – earlier in the postseason, I laid out my case as to why I thought the Braves would probably win the World Series in Game 6, back when they were the least-favored team to win the Fall Classic. All they have to do for that to happen is win tomorrow night in Houston.
The Astros ensured there would at least be a Game 6 with a 9-5 victory last night:

Winning pitcher Jose Urquidy was born in

'95



The Astros won 95 games this season
The Braves clinched the NL Pennant with their 95th win
The Braves have not won the World Series since '95


Houston marched #59 Framber Valdez to start the game. The Loss went to A.J. Minter, who was 59 days after his birthday.

This was on the heels of the major ritual involving the death of Michael Johnson, the grandson of Ernie Johnson, Sr., who won a World Series for the Braves when they played in Milwaukee.

Recall how the name of the Braves' General Manager sums to 995.

Their last World Series victory was in '95, while their last appearance was in '99. By winning their 66th playoff game all-time, the Astros held the Braves, who entered the World Series with 99 postseason losses, to 99 postseason wins.
Both 95 and 99 have Ordinal gematria of 129.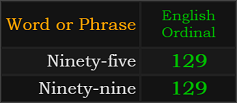 The first World Series game played in Atlanta since those seasons fell on 10/29.