More on the Green Bay Packers / Dodgeball Connection
Earlier this year, I made this post, which pointed out some overwhelming connections between the Green Bay Packers and the 2004 film Dodgeball. With a little more digging, this connection becomes solidified beyond any doubt.
---
Back in 2013, the Green Bay Packers participated in a pick-up game of Dodgeball. See the news story from Packers.com. Aaron Rodgers seemed to take it pretty seriously: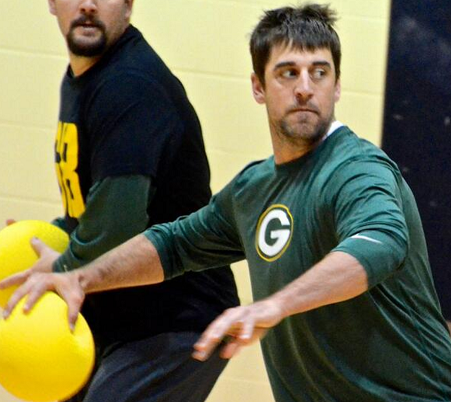 This game was played on 6/6/13. Since 13 is the 6th Prime number, this is a date that can be broken down to 6/6/6. But what's more interesting is how old Rodgers was that day.

The formation of the Society of Jesus was completed in 1540. One of its founders was Peter Faber, whose name in French was Pierre Lefevre:

Peter…LeFevre…these names stand out because the main character in Dodgeball is Peter LaFleur. The Packers' current head coach is Matt LaFleur.
---
But what about that other translation?

Of course, the last QB to start for the Packers before Aaron Rodgers was Brett Favre.

He was traded to Green Bay from the Falcons, who sport the Jesuit Red. "Falcons" = 70 / 119 / 25, "Vatican" = 70 / 119 / 25.
I like how this article says that Packers' GM Ron Wolfe traded for Brett Favre from Falcons' GM Ken Herock after watching him for 45 minutes.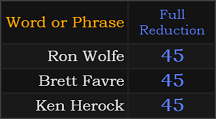 ---
Dodgeball is 93 minutes long.

Brett Favre first took the Packers to the playoffs in the '93 season.

Head Coach Matt LaFleur has birth numerology of 93, which was November 3rd, or 11/3:


Dodgeball was released on June 18th the date written 6/18 or 18/6.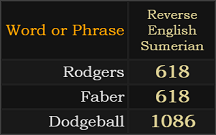 ---



---
Canonization of Peter Faber
Peter Faber was canonized in December of 2013, just six months after the Packers' game of dodgeball. Rodgers ended up breaking his collarbone that year, suffering what most people thought was a season-ending injury.
However, Rodgers made a miraculous return for Week 17, where he was able to lead Green Bay to a win over Chicago to win the NFC North. That game fell 12 days after Faber's canonization, and Rodgers of course wears #12.



The Packers lost the first two games after Rodgers got hurt in 2013 by a score of 13-27. In Latin, Faber's name was Petrus Faver, which has Latin gematria of 1327:


Aaron Rodgers played the only game of his career to finish with a score of 13-27 on Monday Night Football in 2016.

Recall how Rodgers was 1540 weeks old for his game of Dodgeball. That game against the Eagles fell exactly 154 weeks after Faber was canonized:

---
One of Brett Favre's very first games in his first season, 1992, was won 13-27. He played a second game that finished with a 13-27 score when he was 10992 days old.
Favre even played one 13-27 game in each of his final two seasons, spent playing for the Vikings – Week 2 of 2009 and Week 10 of 2010.
Considering there have only been 70 games in NFL history with this final score, this is certainly has significance, particularly the timing of these games.
In fact, the last two games to have a 13-27 score prior to Favre's entry into the league were both Between the Packers and Bears in 1990 and 1991, the two seasons before he started playing for Green Bay. The rabbit hole certain runs deep on this one.