Officers Ambushed in Houston, One Killed


This shooting involving the Houston Police Department occurred on the 288th night of the year, which leaves 77 days on the calendar:


Recall how 7/7 was the date of a massive police shooting that also occurred in Texas.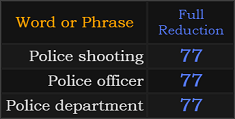 ---
The Mayor of Houston is Sylvester Turner.

The city of Houston is named after Sam Houston, who was was born on March 2nd, or 3/02.

---
Jesuit Order Numerology


Sylvester Turner was born on September 27th in the year '54:


The Jesuit Order has an official formation date of September 27th in the year 1540.


---
The Latin Jesuit motto is Ad Majorem Dei Gloriam, which has matching 1016 Jewish gematria with Houston police ambush, which occurred on 10/16.


Worth noting that Sylvester was born on the Jesuit's 414th anniversary. "Bar ambush" = 414.
---
The officer who died is Deputy Kareem Atkins.


"Mayor Sylvester Turner" = 115. Sam Houston was born on a date with Primary numerology of 115, the date leaving 304 days in the year:

In English, this means "For the Greater Glory of God."

1201 is the 197th Prime number


197 is the 45th Prime number
The shooting was at 45 Norte Sports Bar