The Disappearance and Discovery of Gabby Petito

This story has been getting a boatload of coverage all week. In reviewing its numerology, I found the connections to the death of comedian Norm Macdonald, who I made this post on last week, to be overwhelming.
Norm Macdonald was born on October 17th, 1959:

This gives him Primary birth numerology of 105, which is the Reduction value of Gabby Petito's full name:


Gabby went missing during a trip to Grand Teton National Park, which has overlap in Reduction with Norm Macdonald's full name.

Norm was fired from Saturday Night Live at the end of '97.

97 is the 25th Prime number

Almost immediately after finishing this post, I scanned the headlines and saw a new article with the word "normal" in quotes. I suppose this is a nod to "Norm":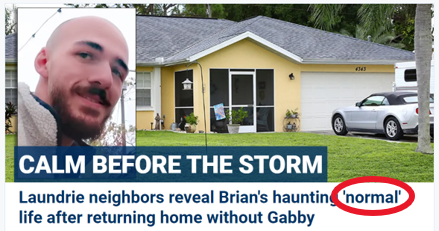 ---
Gabby Petito / Norm Macdonald Links
The remains of Gabrielle Petito were found on September 19th, which was 5 days after the death of Norm Macdonald.
She was born on March 19th, 1999, which fell 5 days before the debut of The Norm Show.

She was born on a date with a Life Lesson number of 50, a number that links the name Gabby Petito to Macdonald:


Their last names also share a 31 in Reduction.

---

Norman Macdonald died on 14/9 at the age of 61 years: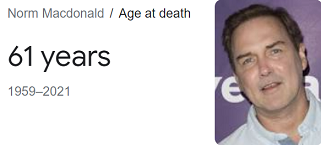 Gabby Petito, last seen in the Grand Tetons, was reported missing on a date with Primary numerology of 61:


---
Gabby was born 153 days after Macdonald's birthday on 19/3. She was reported missing 176 days after her birthday:


193 is the 44th Prime number

The Comedian died from Cancer on a date with Standard numerology of 44: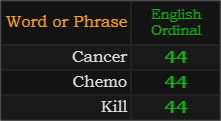 ---
Norman was born on the date leaving 75 days in the year, another number he shares with Gabrielle Petito:


Gabby was last seen in late August, and discovered in mid-September, spanning nearly the full duration of Virgo on the Zodiac.
---
"Sacrifice" Coding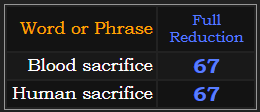 67 is the 19th Prime number

Petito's birthday was on the 19th of the month
Her remains were discovered on the 19th of the month

---

Petito was reported missing on September 11th, or 9/11. The number 911 is the 156th Prime number. This is the Ordinal value of Gabrielle Petito and Thirty-three.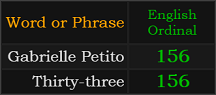 Norman was born on a date with Reduced numerology of 33:


He died 33 days before his birthday:


Gabby's remains were found on a date with a Life Lesson number of 33:

Brian Laundrie's birthday falls a span of 33 days after Macdonald's:


---
In the alphabetic order, Gabby Petito sums to 122. Her Missing white woman story is dominating the headlines here in 2021.

Gabby Petito was born a span of 122 days after the birthday of Brian Laundrie:

Without the end date, it's 121 days, syncing up with Gabby's Standard birth numerology:


Norm's death fell on the 257th day of the year:


257 is the 55th Prime number


Brian Laundrie was born on a date with a Life Lesson number of 55:


The 88th Prime number is 457