Juan Nieves's 1987 No-Hitter for the Milwaukee Brewers
Earlier this month, I made this post and then this video about the Milwaukee Brewers' recent no-hitter, which was part of a riddle connected to the 1989 film Major League.
I was so overwhelmed with those syncs, however, that I barely mentioned how it was connected to the only other no-hitter thrown by the Brewers, which occurred back in 1987.
The pitcher who accomplished the feat was Juan Nieves, whose career was derailed early by a pitching injury after only three seasons with the team. I pointed out how Burnes's no-hitter was thrown against starting pitcher Zach Plesac, who is the son of Dan Plesac, one of Nieves's teammates in 1987…but of course, there's a lot more to unravel.
Corbin Burnes threw his no-hitter a span of 34 years, 150 days after Juan Nieves threw his:


---
Nieves' Debut & No-Hitter

Corbin Burnes was born a span of 90 months, 8 days after Nieves's no-hitter (or 190 days after its anniversary):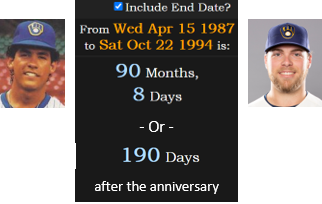 190 is the Ordinal value of Milwaukee Brewers. Consider how the best player in their history is Robin Yount, whose number 19 they retired. The 290 in Reverse stands out because the 29th Prime number is 109. "No-hitter" = 109.



Nieves made his Major League debut on a date with 19, 29, and 100 numerology, which was also the 100th day of the year:

His final Major League appearance occurred on another date with Primary numerology of 100:



Corbin Burnes threw Major League's 314th no-hitter at the age of exactly 1403 weeks:

---
Nieves's no-hitter also fell 370 days (or a span of exactly 53 weeks) after his debut:



The date of his no-hitter had Primary numerology of 125 and 44:



Juan was born on a date with Primary numerology of 90:

He wound up playing his final game on the date that leaves 90 days in the year:

---
"911" Riddle
Milwaukee Brewers No-Hitter sums to 119 in Reduction.

Juan Nieves made his debut on a date with Primary numerology of 119:

He played his final game on another date with Primary numerology of 119:

Major League was released in theaters on a date with 119 numerology:

Corbin Burnes was in his 1160th day in the Major Leagues when he threw his no-hitter, which was finished off by 10019-day-old Josh Hader on 11/9, or September 11th, which is the 254th day of the year:

Juan Nieves's full name sums to 254 in the alphabetic order.