All-Time Leading English Goal Scorer Jimmy Greaves Dies @ 81

Jimmy Greaves is the all-time leading goal scorer in the history of English top-flight football. He also holds a number of acclaims in international play, including a World Cup victory, and is regarded as one of the greatest strikers of all-time.
Jimmy Greaves began his professional career in 1957 (or '57).


He made his debut with Chelsea that year in a match against Tottenham Hotspur (a.k.a. the Spurs). After four years playing for Chelsea, he would go on to sign with the Spurs, becoming that club's all-time leading scorer, a record he still holds to this day.

On the date Greaves died, it just so happened that Chelsea was traveling across town to play Tottenham Hotspur in a primetime Sunday game (most games are played on Saturday):

Greaves died on the date written

19/9

199 is the 46th Prime number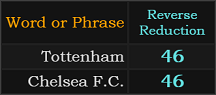 ---
Greaves was 81 years old when he died. This stands out, because he was born on a date with Primary numerology of 81:

Tottenham's current coach, Nuno Espírito Santo, came to terms with the club 81 days (or a span of 82 days) before Greaves passed:

The date he was hired had numerology of 77, 41, and 57:


It was also 156 days after Nuno's birthday. The 156th Prime is 911, and Nuno was born on 1+25+19+74 = 119.
---
"Sacrifice" Coding
The date he died had a Life Lesson number of 33: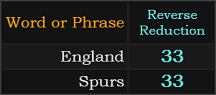 Thirty-three is a number of Ritual human sacrifice.


Greaves helped win England a World Cup on the date July 30th, which is the 211th day of the year, and had 103 numerology:

He died on the date that leaves 103 days in the year:

---
Both Tottenham and Chelsea are based in London, England.

Football is a game with 22 men on the pitch at all times. Consider how the American version of football is run by the National Football League.

22 weeks is also 154 days. "Ritual sacrifice" = 154.
---
Astrology
Chelsea's crest has a Lion on it: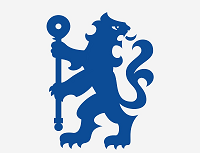 The astrological sign represented by a lion is Leo, which rules the heart. This connection was explained in my video on Biz Markie from July. It appears to be present here as well:

Jimmy Greaves was born in 1940.

The Heart is the symbol of Valentine's Day, which falls on 2/14 each year. Jimmy died 20140 days after he helped secure England a World Cup, and a span of 52 days after the win's anniversary: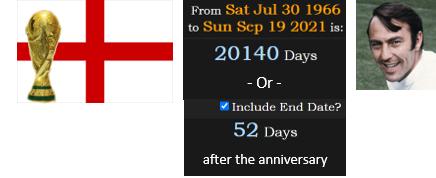 England crowned a new Queen in the year '52. She was born on the date 21/4, and Greaves died 21 weeks, 4 days after, or 214 days before, her next birthday: