Jason Kidd Hired as Dallas Mavericks Coach
On June 28th, the Dallas Mavericks announced Jason Kidd, who played eight seasons for the team, as their new head coach.
Jason Kidd's full name has overlap with Dallas in multiple ciphers.

Kidd was born on a date with Reduced numerology of 28, a number that connects him to Dallas, Texas:



The Hebrew phrase for Total solar eclipse sums to 280.

Kidd was hired 13 weeks, 6 days after his birthday. "Dallas" = 136.
---
Kidd's last head coaching job was in the city of Milwaukee, Wisconsin.

This syncs up with his Primary birth numerology of 118, which is also the Ordinal value of Dallas, Texas:


Jason Kidd was fired as head coach of the Milwaukee Bucks in 1 of '18, exactly 179 weeks before he was hired by Dallas:

His June 28th hiring date was the 179th day of the year:


179 is the 41st Prime number

---
Rick Carlisle

Jason Kidd was part of the '11 Dallas Mavericks team that won the NBA Championship over the Miami Heat. The head coach in '11 was Rick Carlisle, who just stepped down 11 days before Kidd's hiring.
Dallas won the title on a date with numerology of 49, 22, and 13:


Their title fell a span of 1130 days after Carlisle was hired. Carlisle is now the head coach of the Indiana Pacers, who hired him a span of 10 years, 13 days later:



---
The name Rick Carlisle has alignments with Dallas Mavericks through the number 12.

Carlisle won the championship on the 12th day of the month, and was hired by the Indiana Pacers 120 months, 12 days later:



That Eclipse will pass directly over the city of Indianapolis, where the Pacers play their home games: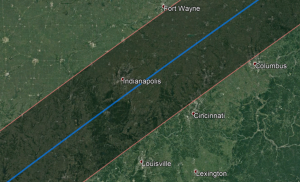 ---
Carlisle was hired by Indiana on the 304th anniversary of Freemasonry:


The 34th Prime number is 139
Notice the 137 shared by Carlisle and Indiana as well. This is the 33rd Prime number, another significant number to Masonry and the Eclipse code.