Baylor Defeats Gonzaga in Tournament Championship
I certainly did think this game was coded for the Gonzaga Bulldogs to reach Perfection against a school from Waco, Texas in the 82nd NCAA tournament amidst all of the mass Vaccination efforts.





A man named Jalen hit a buzzer-beater to send Gonzaga, named for Luigi Gonzaga, to the finals.



A lot of relevant measurements to the date of this game were filled with 6's and 9's.

Few, who was 99 days after his birthday, was hired in 1999.

Indiana's team is called the Hoosiers. That's also the name of a famous basketball movie.

The 6th planet from the Sun is Saturn.

6×6×6 = 216. Saint Gonzaga died on 21/6.
666 days is 95 weeks. Last night's game was played on the 95th day of the year:


---
Gonzaga played against 50-year-old Scott Drew's Baylor team on a date with Primary numerology of 50: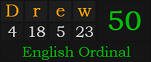 The 50th Prime number is 229. 666 is revealed as the number of the Beast in the 229th verse of Revelation.

That verse is Revelation 13:18:


Last night's game was 1318 days after Floyd Mayweather defeated Conor McGregor to retire Undefeated with 50 wins:



---
The Revelation Riddle
I hadn't bet on a sports game in over a year, but had grown tired of correctly predicting so many games, so I went ahead and placed a wager on this game. Rather comically, I tried cancelling my bet after doing some more digging and finding this, but of course that wasn't possible.
Revelation was important to this game for a number of reasons. Of course, 666 was a huge number, as shown above. There were other clues involved as well – consider how the Bulldogs had made 22 straight NCAA tournaments, with 21 of them being coached by Mark Few. The last verse of Revelation is 22:21.
One of Gonzaga's starters is named Anton Watson. On the day of their game against Baylor, Deshaun Watson had a 22nd sexual assault charge filed against him. It was previously 21 on the date 3/31, and the 331st Prime number is 2221.
Gonzaga is a Jesuit school, and the recent Suez canal blockage was a massive Jesuit riddle, just as the King Soopers shooting the day before. So all the signs were pointing to them…but we needed to dig a little deeper.
"Perfection"
The word Perfect appears once in the Book of Revelation. It refers to works that are not perfect before God:

This is Revelation 3:2. Coach Mark Few was looking for a win to make his team a perfect 32-0.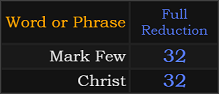 The Ordinal gematria of this verse was a big part of the game's riddle:



---
So instead of winning and becoming 32-0, Few lost and dropped to 31-1 in his 755th career game.
There's only one verse of Revelation that sums to 755 in Ordinal. It's Revelation 31:1:


The number 311 is interesting for a number of reasons. Recall how 3/11 was the date coronavirus was declared a pandemic by the WHO.
311 is the 64th Prime number

It is said that Aloysius Gonzaga died while taking care of patients during an epidemic. This tournament was the first since the "pandemic" began. The full name of Baylor's head coach has matching gematria with Coronavirus.

Mark Few lost his 125th career game 1 year, 25 days after that date. That's also 390 days. Saint Gonzaga was born on 3/9.
---
The 82nd NCAA Tournament wound up being won by Baylor University, whose mascot is a Bear.

Their championship victory was their 28th win of the season.

There were a total of 156 points scored in the game.