Rapper DMX Hospitalized Following Heart Attack

This news broke on April 3rd, written 4/3/21
DMX rapped on an LL Cool J track called 4, 3, 2, 1


Rapper DMX, whose real name is Earl Simmons, made the headlines on a date with Primary numerology of 48:


The 48th Prime number is 223

---




---
Lunar Eclipse Code
The date April 3rd is significant for another reason. It's widely taught to be the date of the Crucifixion of Jesus:

There was a lunar eclipse on that date in the year 33.

According to the Gospel, darkness falls over the sky during the crucifixion, which reminds us of an eclipse.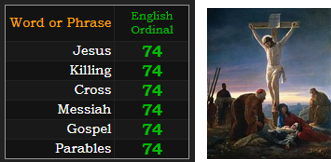 The demise of a famous Rapper is virtually guaranteed to be connected to an eclipse.


The Hebrew phrase for Total lunar eclipse sums to 445, matching Earl Simmons in Jewish gematria:



This year's highly-significant lunar eclipse falls on 5/26/2021, which is virtually identical to the gematria of the Revelation verse that mentions both a solar and lunar eclipse.
DMX's birthday is 12/18
That Total lunar eclipse, and a solar eclipse two weeks later, begin Lunation #1218.

---
Solar Eclipse Code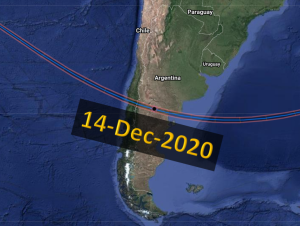 DMX was hospitalized a span of 111 days after the most recent total solar eclipse, and 1101 days before the second Great American Eclipse:

111 seconds = 1:51

That second U.S. Eclipse occurs in the year 2024. This syncs up with the Ordinal value of DMX's full name – Dark Man X – Earl Simmons.


---
It's widely taught that Jesus was crucified in 33 A.D., often at the age of 33.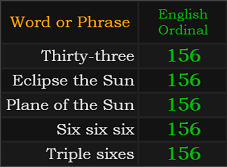 The 156th Prime number is 911
DMX died a span of 156 days before 9/11
A growing number of scholars believe Jesus was born on September 11th, the date written 9/11 in the United States or 11/9 in the rest of the world.
DMX has Primary birth numerology of 119, and his full stage name sums to 911:



1331 is the ultimate eclipse number
---
Donald Trump Connection

If Jesus' date of birth really was September 11th, 3 B.C., it would have been the same day as 1 Tishri, the Feast of Trumpets.


Is it possible they're getting ready to have DMX wake back up after three days? That feels almost too obvious.
There's something else noteworthy about Simmons' name:

Trump is still that special 74 years old, and yesterday was even 293 days after his birthday. Recall how last week on 29/3, there was a "rebirth" in the Suez Canal.

J.R.R. Tolkien published The Return of the King on the 293rd day of the year:

The Coronavirus pandemic, which the media portrays as a Plague, was declared a national emergency on the date leaving 293 days in the year:


We're being absolutely inundated with numerology related to Revelation ever since Covid Nineteen began. I saw this coming as far back as 2017.