Dak Prescott Breaks His Ankle
For those who aren't too squeamish…here's a clip of the injury.
The injury occurred against New York.

Today is October 11th, written 10/11.

Rayne Dakota Prescott went to Mississippi State.


The new Cowboys coach, Mike McCarthy, was born on 11/10.

McCarthy is exactly 20790 days, or 2970 weeks old:

Prescott's birthday is 29/7
---
What's so strange about this injury is that I saw it happen live, and it occurred within a couple minutes of me finishing my last post, which was mostly about a quarterback who played for the New York Jets.

Dak Prescott, a quarterback, got injured against New York. Stuff like this makes me wonder if the calculator I created is really some type of digital Ouija board.
When they came back from commercial, they said the injury is a right ankle. Well, no shit…everybody saw the man's damn ankle was turned sideways. But notice how it aligns with the numbers already linking Joe Namath with Cowboys.

Today is exactly 19 years, 1 month after 9/11: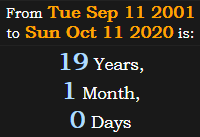 On the same day Prescott broke his leg, quarterback Alex Smith of Washington played in his first game back since suffering a compound fracture of his own back in 2018, which was ultra-connected to Joe Theismann's similar injury. Alex Smith was a span of exactly 1901 weeks old: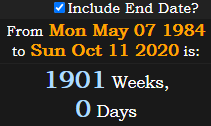 191 is the 43rd Prime number
Broadway Joe was born in '43


I think it's time for another one of those breaks.
Maybe "break" is the wrong word for this post…