Marlins' Season Delayed Due to Covid-19


349 is the 70th Prime number
The MLB season began on July 23rd, a date with Primary numerology of 70:



The CEO of the Miami Marlins is MLB Hall of Famer Derek Jeter. The team's manager is Don Mattingly – both men played their entire careers with the New York Yankees.

---
Before their season was postponed, the Marlins played only one three-game series in Philadelphia.
In recent weeks, Florida has been said to be a hot spot of the pandemic. Notice the matching 65 gematria with Miami, Florida, New York Yankees, and coronavirus.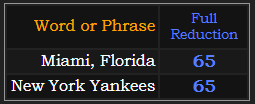 In Reverse, pandemic sums to 151 like Florida Marlins, the team's original name.


---
Derek Jeter
Jeter has matching 58 gematria with his job title, CEO.


Miami and Marlins both have 270 gematria.



The season began 27 days (or a span of 28 days) after Derek Jeter's birthday:

The Marlins franchise is 27 years old. This is their 28th season.

The disease is called Covid-19. The season began a day after Jeter turned 2404 weeks old. "Nineteen" = 244 (Jewish).
Also worth noting that the 19th Prime number is 67, and Jeter's birthday falls 67 days after Mattingly's.
---
Don Mattingly




Mattingly was born on the 110th day of the year: