George Floyd – Raymond Floyd Fayetteville Connection
It's now being reported that George Floyd was born in Fayetteville, North Carolina.


If you peruse the notable people section of Fayetteville's page, you'll see another man with the last name Floyd – golfer Raymond Floyd.
Raymond Floyd won the 1976 Masters Tournament.

---
Raymond Floyd's victory was on April 11th, written 11/4. George Floyd was born on 10/14.
11×4 = 44. Raymond Floyd won the Masters exactly 44 years, 44 days before the death of George Floyd: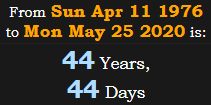 Floyd's killing was a numerical recreation of the assassination of Martin Luther King, Jr, who was assassinated on 4/4. Floyd was born when MLK would have been 44 years old, on a date with 44 numerology, and was killed by a 44-year-old officer on the 44th parallel.
---
George Floyd's death was also a pretend sacrifice of Jesse Jackson. Former NBA player Stephen Jesse Jackson is telling the media Floyd was his "twin". Stephen Jackson was born in '78, while Jesse Jackson, who was born on a date with 78 / 33 numerology, was exactly 78 years, 33 weeks old when Floyd was killed. Jesus was allegedly crucified as a human sacrifice at the age of 33 in 33 A.D.


Raymond Floyd won the Masters at the age of 33. George Perry Floyd was killed by police exactly 102 days before Raymond Floyd's 78th birthday:



Raymond Floyd's Masters victory fell on the 102nd day of a leap year:
---
1976 Masters Win
Raymond Loran Floyd was born on the 247th day of the year:


The date had 74 and 29 numerology:




---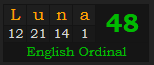 The 48th Prime number is 223
There are 223 lunar phases in the Metonic cycle


In his eight-stroke victory, Floyd tied Jack Nicklaus's record by finishing his four rounds in 271 strokes.

On the date the tournament began, it was the 12,271st day since Floyd was born:



The tournament concluded 220 days after his birthday.

George Floyd was born 2020 days after Martin Luther King Jr. died, and was killed with 220 days left in 2020. The news hit headlines 202 days before the 2020 total solar eclipse, and his murder was exactly 202 weeks before the 2024 total solar eclipse. Floyd died 224 days after his own birthday in Minnesota.

Raymond Floyd won the Masters on a date with 110 and 38 numerology:

Notice the date of 4/11. George Floyd was born on 10/14.
---
Augusta matches The Moon in Ordinal, and Augusta National Golf Club has matching Reverse gematria with eclipse crucifixion code, and The Masters matches eclipse sacrifice.