Terminator Actor Robert Patrick Weighs in on Protests

The media has decided to publish a story about actor Robert Patrick's take on those who are looting during the George Floyd protests.
Why would the mainstream bring even more attention to this man's tweet? Although recognizable to some, he's not a very popular actor. Perhaps the numbers will tell us more.

1423 is the 224th Prime number

George Floyd died 224 days after his birthday. Floyd was born 2020 days after the assassination of MLK Jr, who died 2 months, 20 days after his birthday, and then died on the date leaving 220 days in 2020, exactly 202 weeks before the 2024 total solar eclipse.

The incident occurred on the 93rd parallel. Patrick has Primary birth numerology of 93:


Robert Patrick's last birthday had Primary numerology of 55:

55 is 5×11
Minnesota became a state on 5/11/1858
Robert Patrick was born on 11/5/1958

Patrick's comments were published in the media a span of 158 days before his birthday: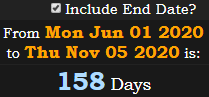 ---
This post explores the myriad of 78 connections to this ritual. George Floyd, who was born on the date leaving 78 days in the year, was friends with Stephen Jesse Jackson, who was born in '78. Jesse Jackson, who was born on a date with 78 and 33 numerology, was exactly 78 years, 33 weeks old. The names Robert and Patrick both sum to 78 and 33.