Kicker Tom Dempsey Dies @ 73 From Covid-19

It's being reported that Tom Dempsey has passed away from Covid-19.


Although Dempsey spent over a decade playing in the NFL, he is best-known for his short stint with the New Orleans Saints. During his time there, he kicked the longest field goal in NFL history, a record which stood for over forty years.
This isn't the first time we've heard the New Orleans Saints be mentioned alongside Covid-19. Back on March 19th, I made this post after the current head coach of the Saints, Sean Payton, was diagnosed with coronavirus. He has since made a full recovery.
Tom Dempsey died on April 4th, but the news was not published until today, April 5th. Both dates are 17 days after we learned of Sean Payton's diagnosis:

In my post on Sean Payton, I focused on the number 44. The 44th Prime number is 193, and Payton's diagnosis was reported on 19/3. What I failed to mention in that post is that Sean Payton coached New Orleans to a victory in Super Bowl 44.

Now we've learned that on April fourth, the date written 4/4, a famous field goal kicker from the Saints passed away.


April 4th was 4 years, 4 days before the 2024 total solar eclipse: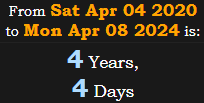 Dempsey died on April 4th, the date written 4/4. However, news of his death from Covid-19 was not published until today, April 5th, the date written 4/5 or 5/4.


The 45th Prime number is 197
Dempsey kicked his record field goal in 1970
---
"Corona" / "Covid" Code
With all these New Orleans Saints being infected with the virus, we should not at all be surprised that they have the same gematria as corona.

Tom Dempsey's death, and the date of the news story, fell 2 months, 24 days after his birthday:



---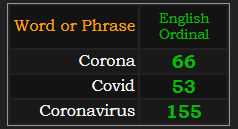 The New Orleans Saints , who were founded in '66, were 53 years, 155 days old when Dempsey died:
Dempsey's final birthday had Primary numerology of 53:

He kicked his record field goal on the date leaving 53 days in the year:

He died exactly 530 weeks after the Saints won their one and only Super Bowl: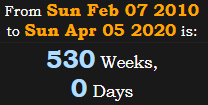 The Saints won their Super Bowl in 2010. The Covid-19 pandemic is a world government deep state operation following the guidelines set forth by Bill Gates's Event 201. Interesting we find these digits in Dempsey's full name.
---
Today's date has Primary numerology of 49

Tom Dempsey's record-breaking field goal was kicked was exactly 49 years, 149 days ago: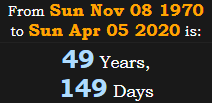 ---
Headline Gematria
The number 33 has been stamped on this virus like nothing I've ever seen before. Watching this video, which was published two weeks before a pandemic was declared, will show you more 33's in headlines than you can imagine.
Both Tom and Dempsey sum to 33.



Fox News's headline sums to 330.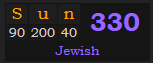 33 is a number of ritual human sacrifice.

In Ordinal, sacrifice sums to 73, like the Reduction value of ritual sacrifice.


Dempsey died at the age of 73 years, 83 days:

Dempsey's date of birth had Primary numerology of 79 and a Life Lesson number of 34: