Oprah Winfrey Donates $10 Million for Coronavirus

The Oprah Winfrey Show first aired on the 251st day of the year:

251 is the 54th Prime number
Oprah was born in '54
Today is April 5th, or 5/4
The Oprah Winfrey Show, created by Harpo Productions, made its debut in the year '86.


86 flipped upside-down is 98. The show's premiere was on 9/8, or September 8th, which falls 210 days before the date of this news story:



Oprah announced her donation for coronavirus relief on April 2nd, the 93rd day of a leap year:

---
Oprah is currently 67 days into her 67th year since birth: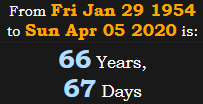 67 is the 19th Prime number
Covid-19…

---
The Oprah Winfrey Show's September '86 debut was 402 months ago:

The show stayed on the air for over 24 years:

The date April 2nd can be written 2/4 or 4/2, which is 2 months, 4 days after Oprah's birthday: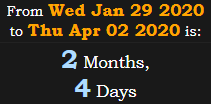 The 24th Prime number is 89
Oprah's donation went to America's Food Fund to help combat the effects of the virus.


The Oprah Winfrey Show debuted on September 8th, the date written 8/9.

---
Freemasonry Riddle


Oprah and Oprah Winfrey sum to 58 and 158, much like Freemasonry.


When The Oprah Winfrey Show first debuted, she was exactly 11910 days old:


Today's story falls 106 months, 11 days after the show's final episode: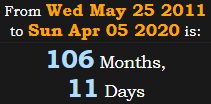 The date of the news was April fifth.