NBA All-Star Game Changes Format to Honor Kobe


Kobe Bryant died at the age of 41, the 13th Prime number, along with his 13-year-old daughter. Today's news falls on January 30th, written 1/30.
Bryant's birthday was 23/8

Kobe died on January 26th, written 1/26.
This year's NBA All-Star Game falls on February 16th, written 2/16. It will be 21 days after Kobe passed away: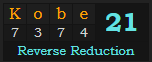 This year's All-Star game is the 69th in history:


The game will be 6 months, 7 days before what would have been Kobe's next birthday: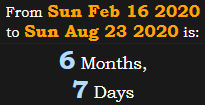 ---
Worth noting – the halftime show will be performed by Chance the Rapper.

He'll be exactly 322 months old: