Death of Kobe Bryant – Super Bowl 41 and 54
Kobe Bryant switched to #24 before the 2006-2007 season. This was the same NFL season that ended with Super Bowl 41, won by the Indianapolis Colts. That was the last time the Super Bowl would be played on February 4th, or 2/4, until Super Bowl 52, which was won by the Philadelphia Eagles. Kobe was from Philadelphia.

Not only did the Eagles win on 2/4, but the date had numerology of 24


#24 Kobe Bryant died exactly 103 weeks later: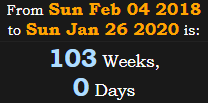 The 13th Prime number is 41
The Eagles won with 41 points
Kobe's 13-year-old daughter also died in the helicopter crash. This year's Super Bowl is 13 years after Super Bowl 41. Both of those games are hosted by the city of Miami.

---
Kobe Bryant had his best career game on 1/22 in 2006, his last season wearing #8


The Lakers scored 122 points in that contest, meaning players not named Kobe Bryant scored a total of 41, the age Kobe died at.

The game was 1 year, 13 days before Super Bowl 41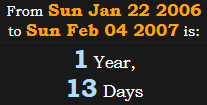 The winner of Super Bowl 41, Tony Dungy, celebrates his birthday 1 month, 13 days after Kobe: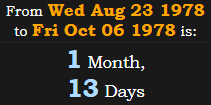 ---

The Colts defeated the Bears 29-17 in Super Bowl 41, giving the game a total of 46 points.

The losing QB in that game was Rex Grossman, arguably the worst quarterback to ever start in the Super Bowl. Notice his interesting birth numerology of 130, the number of days left in the year on his birthday:

He lost to Peyton Williams Manning

Manning was born on 24/3
---
Notice how both quarterbacks have overlap with Kobe Bryant's gematria:




---
Rex even shares an August 23rd birthday with Kobe: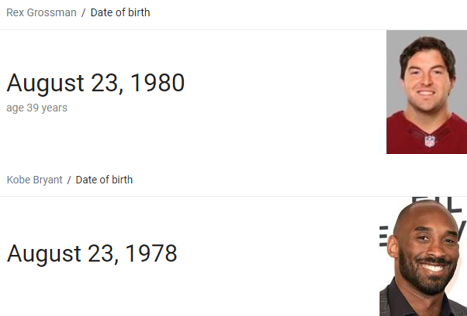 The two-year difference means they were born exactly 24 months apart. This game was played on 2/4, like how Kobe wore #24. This same measurement is also exactly 731 days:


Kobe died exactly 731 weeks after scoring 81 points in his best game ever: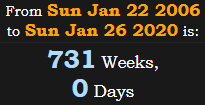 That game was exactly 54 weeks before Super Bowl 41: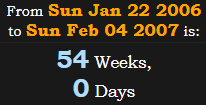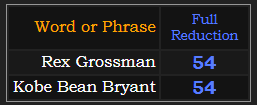 Kobe died on January 26th, or 1/26.

Kobe was exactly 126 weeks younger than Peyton Manning: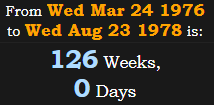 Kobe Bryant's birthday was 23/8
---
The Colts' victory in Super Bowl 41 came during their 54th season. Kobe Bean Bryant died one week, or seven days before Super Bowl 54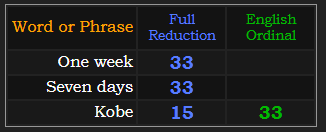 Super Bowl 41 had numerology of 33, 15, and left 330 days in the year:

---
Super Bowl 54 falls on a date with numerology of 8 and 24, the two numbers Kobe wore during his career:

Just about every NBA game following Kobe's death featured an 8 and 24 second violation by each team to begin play. The Super Bowl falls a span of 204 days before what would have been Kobe's 42nd birthday: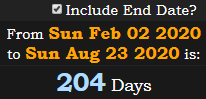 The Super Bowl ends the NFL's 100th season.