Former 49er Chris Doleman Dies of Glioblastoma @ 58


NFL Hall of Famer Chris Doleman died a span of exactly 15 weeks after his 58th birthday: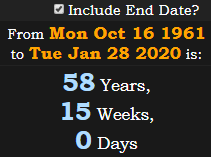 He died on a date with Reduced numerology of 15

The date also had a Life Lesson number of 33


Doleman spent three seasons with the San Francisco 49ers, one of the two teams in Super Bowl 54 this weekend. He died of Glioblastoma

---
Doleman was born in 1961

His Jewish gematria value is quite interesting as well. The 13th Prime number is 41, and Kobe Bryant just died at age 41 along with his 13-year-old daughter. See Simple Truth's blog post for a remarkable list of 41's involving Kobe Bryant.
This year's Montana Bowl features the San Francisco Forty-Niners against K.C.



Joe Montana's birthday is 6/11. Chris Doleman's was 10/16.