Kobe Bryant – The "Metonic Cycle" Riddle
Ever since I started this blog, I've been documenting how the city of Los Angeles, California is heavily-coded with the numbers of the Metonic cycle. Here are links to five relevant posts:
Link 1 – Link 2 – Link 3 – Link 4 – Link 5
Kobe Bryant played his entire career in the city of Los Angeles. This post will review how his helicopter crash was a tribute to The Metonic Cycle

---

Bryant died in a helicopter on the 26th day of the year, leaving 340 on the calendar:


It happened in the year 2020
The 22nd Prime number is 79
The word metonic sums to 79 in Ordinal, just like LA Lakers


Kobe was born 187 days before the total eclipse of '79


187 has been popularized as the homicide code:

---
Bryant has Standard birth numerology of 109

Los Angeles sums to 109

The Metonic cycle is a period of 19 years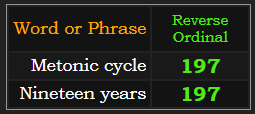 Every 19 years, 7 of them contain a 13th month

Kobe died 197 weeks after his final NBA game:

In my first post about the helicopter crash, I pointed out how Kobe's death was closely-related to the WWE Royal Rumble from the same date. The son of the owner of WWE, Shane McMahon, was in a helicopter crash of his own. It occurred on the date 19/7 – McMahon was born in the year 1970.
The 197th Prime number is 1201
The most recent New Moon began Lunation #1201

---
Nineteen years syncs up almost perfectly with 235 lunar phases.

Bryant was born on the 235th day of the year:

Royal Rumble winner Drew McIntyre was a span of 235 days after his birthday during last night's win: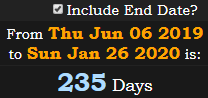 On the date Kobe died, Alicia Keys hosted the Grammys. She was exactly 2035 weeks old: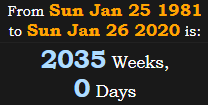 Kobe's final NBA game was a span of 235 days after his birthday: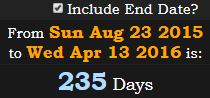 On the date of the Great American Eclipse of 2017, Kobe was in his 2035th week since birth: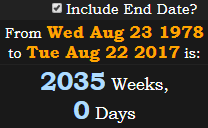 Kobe died a span of 127 weeks after that eclipse. Notice how the date 1/27 is exactly 127 weeks later without the end date:

The Metonic cycle has 12 years of twelve months and 7 years of 13 months.

He wrote his retirement letter exactly 217 weeks before he died: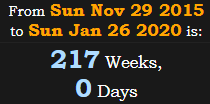 The film about his retirement letter was released in 2017.
---
On the date of the second Great American eclipse, Kobe would be 547 months old:



547 is the 101st Prime number
Bryant, who was from Philadelphia, died right next to the 101 freeway.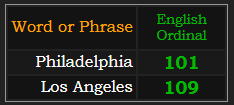 On the date Kobe was born, Philadelphia was 101,109 days old: