Kobe Bryant Dies in Helicopter Crash @ 41


69 is the Jewish value of Pi and the English value of Circles


Pi is 3.14. NBA Commissioner Adam Silver was in is 3014th week since birth.

888 is six circles. Kobe's death fell 888 days after the most recent total solar eclipse.

It was the same date as the Royal Rumble

The first Royal Rumble was in the year '88


The 88th Prime number is 457
This helicopter crash was a span of 457 days after the one that killed Leicester City owner Vichai Srivaddhanaprabha: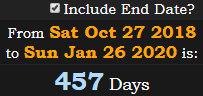 ---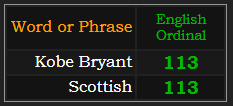 The man who won the Royal Rumble was Drew McIntyre, the first Scottish-born wrestler to ever win it. Just three days before Kobe Bryant's helicopter crash, Robert Archibald, the only Scottish-born player in NBA history, passed away. He played for the Toronto Raptors in 2004, and died 224 days after they won the NBA Championship:


The Raptors and Spurs took 2 24-second violations in their game to honor Kobe Bryant tonight.


Kobe was born on the 235th day of the year:


McIntyre was a span of 235 days after his birthday: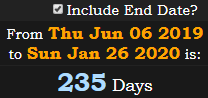 ---
Bryant's Age

Kobe Bryant died during the 157th day since his 41st birthday:
Half of 3.14 is 1.57

The Royal Rumble was won by Drew McIntyre

McIntyre was born on the 157th day of the year:

---
Bryant's Jerseys
Drew McIntyre's real name sums to 240

Kobe finished his career wearing #24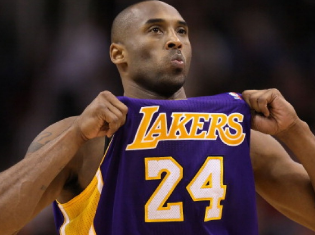 He also wore #8

McIntyre was born a span of 2480 days after Kobe Bryant: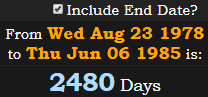 The difference between 24 and 8 is 16. Drew McIntyre entered the Royal Rumble at #16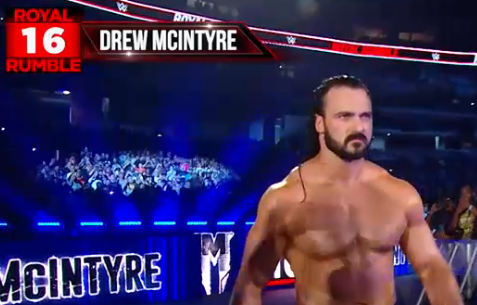 This year's Royal Rumble was the 33rd edition. Kobe died in Calabasas, California, which has the C.C. or 3-3 code.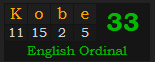 Kobe's death falls a span of exactly 33 weeks after a helicopter crash in downtown New York City: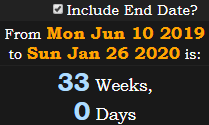 Drew McIntyre was born on June 6th, written 6/6. Bryant died 156 days after his birthday:


---
"Sacrifice" Code
McIntyre is currently 34 years old. Kobe's crash in a helicopter was on the date leaving 340 days in the year:


Kobe died in Calabasas on a date with Primary numerology of 67



It was the same day Drew McIntyre won The Royal Rumble. The winner of the Women's Royal Rumble was Charlotte Flair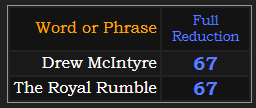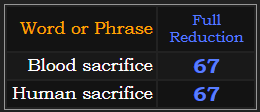 ---
Kobe's death fell 206 days after billionaire Chris Cline died in a helicopter crash of his own: